1945 Air Force: Airplane games is a much-loved aircraft shooting game with many exciting game modes. You can overcome many different levels with dense numbers of enemies possessing fearsome weapons. At the same time, you can also compete with other players and try to earn as many achievements in each level. You'll need to collect an impressive number of planes to do this.
EXPERIENCE THE CLASSIC PLANE SHOOTING GAME
In 1945 Air Force, users will experience fascinating gameplay with the characteristics of aircraft shooting games. It can be said that this is not very new gameplay, but it still retains a specific attraction during the game. At the same time, you will have access to different aircraft types in the game and upgrade them as your wish. So, this will be a game that you will not be able to ignore and spend a lot of time experiencing.
You will participate in a game screen and can control your plane with complete ease. Your plane will have a health bar on the left side and a progress score on the right side. At the same time, your enemies will gradually appear at the top, and you will try not to be attacked by enemies to complete the level. At the same time, you will see items and gold coins that you can collect during the game.
INCREASE YOUR STRENGTH IN BATTLE
Over time, you will face various enemies and modern weapons in the 1945 Air Force. You'll need to dodge them carefully as one of them can destroy you instantly if you're in their sights. At the same time, an interesting point that you will experience is the elements that signal the enemy's attack. You will be able to completely recognize and try to avoid all of them even though their number is very large.
Progress points on the right side will increase when you kill a certain number of enemies. With each level, you will receive a request that you need to complete. At the same time, in the elements that drop from the enemies, you will find the same power-up elements as other shooting games. In addition, besides the central plane, you also equip yourself with secondary planes to support your attack when confronting powerful enemies.
UNLOCK DIFFERENT TYPES OF PLANES
You will find a good number of primary and secondary aircraft in the 1945 Air Force. They will be classified by power, so you will try to unlock planes with awe-inspiring power. At the same time, you will be equipped with additional equipment to support in battle, and you will be able to upgrade everything you have with the money you earn. So, unlocking new powers will help you confront many different types of enemies.
MANY MODES FOR YOU TO EXPERIENCE
The two main modes in 1945 Air Force include Single Player and Multiplayer. The single-player will push you through many levels with countless enemies waiting. At the same time, with multiplayer, players will compete with other players and pass different levels. In this mode, you will see a bar divided into two colors, blue and red. You will try to earn as many points as possible, and it offers a challenging level.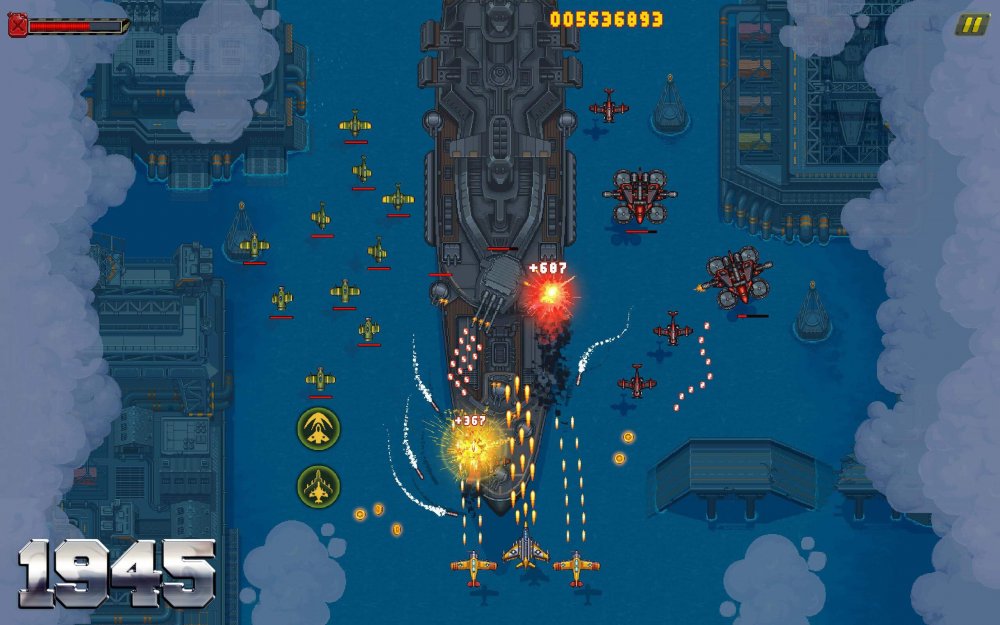 KEY FEATURES
There are over 30 iconic WWII battlegrounds to explore and there are over 350 challenging campaigns to choose from.
Over 30 historical aircraft from the Air Forces of the United States, the United Kingdom, the Soviet Union, Germany, and Japan… with many modifications, upgrade and merging options to construct your own super jets.
Bombarding, Bosses, Protect, Stealth, and Assault are among the numerous more modes available in this free arcade game.
Play every day to get free prizes and daily chores, as well as plenty of other freebies! Completing daily duties and upgrading your equipment is a must!
Graphics, lighting, and special effects are all top-notch.
Division (Clan): readily form alliances with like-minded Division Agents to defeat more difficult foes.
PVP – multiplayer online shooting games; join up with pals, form a squadron, and place your name on the worldwide leaderboard.
Many vintage aircraft are available to test in simulator games.
1945 Air Forces v11.92 MOD APK (Money, Fuel, VIP, One Hit) Download