Adobe Scan is an application that provides accessible document scanning features with a few taps that anyone can do. You can continuously scan multiple documents and merge them into a single PDF file. At the same time, the type of files that you can scan is entirely diverse, and the features that come with it are suitable for the characteristics of each type. In addition, you can also perform some operations with the files you scan.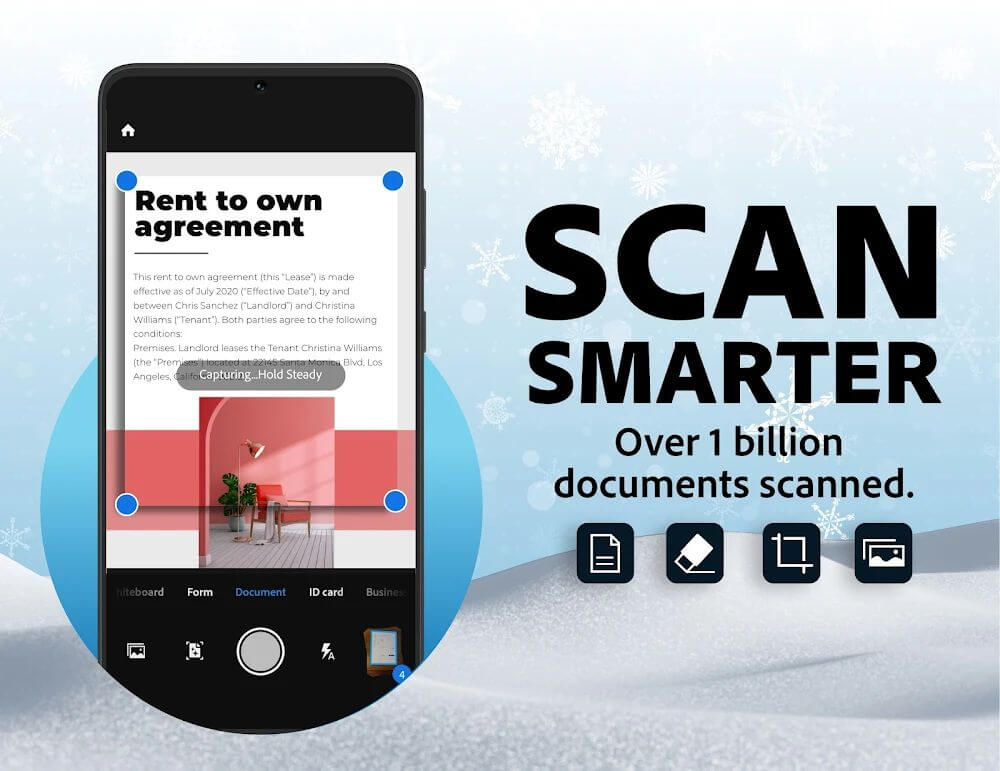 COMPRESS FILES AND SHARE THEM EASILY
In the new version of Adobe Scan, users will surely be impressed with the newly added features. Specifically, you will easily use the compression feature in the premium version of the device as it will help you conveniently share the files you have scanned. You can also merge multiple files and compress them to reduce the size and transfer them to others quickly. So this is a feature that any user will enjoy.
SCAN PAGES OF BOOK EASILY
The second new feature appearing in Adobe Scan is using Book mode to scan the pages of books you like. Specifically, when you have selected this mode, you only perform the same scanning as scanning other types of documents. In addition, after recognizing your file, the application will correctly split it into two different pages. It can be said that this is a feature that helps you to transfer the pages of your favorite books and read them on the Android platform.
PRINTED DOCUMENTS TO PDF AND JPEG WITH JUST A FEW TAPS
In Adobe Scan, users will find the document scanning feature useful with high accuracy, and anyone can do this. The application will export scanned files to two main formats, PDF and JPEG, the most commonly used file types today. In addition, the operations that you need to do are capture the printed document you have and edit it by changing the color, the area of recognition, and many other factors. From there, you will have a quality scan file.
SCAN MULTIPLE FILES AT ONCE EASILY
Another feature that any user will love in Adobe Scan is scanning multiple documents at once. It is completely useful as you can create them into a single PDF file, and after the successful scan, you will edit them in bulk and save a lot of your time. Also, depending on which session you use, the page count changes as the normal version is 25 pages and the premium version goes up to 100 pages.
GET INFORMATION FROM DIFFERENT FILE TYPES
Besides scanning a document type, you can find other scan modes to scan, and these will integrate and have support features for that file type. Specifically, you can scan a business card, and besides scanning it, the application also extracts the information that appears on it. It is useful when users can work with many customers and take advantage of the information they have scanned in many ways, such as saving in contacts for convenient communication.
USEFUL SUPPORT FEATURES
Besides the scanning feature, the application also offers some valuable features, such as that you can easily use the application's cloud platform to share files. In addition, the application claims to make it possible to sign, copy, and other features to a scanned file, despite its length.
The scanning feature that the application brings has many valuable points that you cannot ignore:
The types of files that you can scan with the application are diverse, and each mode will have different scanning characteristics.
You can constantly scan a certain number of pages before editing and creating a single file for easy reading and use.
The files you have scanned are under your control when you can sign, copy, and much more quickly.
In the new version of the application, you can compress the files you have stored into a single file for easy sharing.
Book mode appears suitable for scanning a different number of book pages and automatically dividing after the completed recognition process.
Adobe Scan v23.02.16-regular MOD APK (Premium Unlocked) Download