Archer Hunter adopts real-time rogue-like gameplay to bring players countless intense and breathtaking moments in various expansive dungeons. Its contents are also repeatable and straightforward until they unlock new weapons or complete all the medals associated with the achievement system. Moreover, the best thing is the pacing and excitement from the continuous and fierce action in countless biomes and complicated situations.
MULTIPLE BIOMES WITH ARDUOUS CHALLENGES
The variety of biomes in Archer Hunter will diversify the player's adventure experience as they offer different levels and enemies. Depending on the type of biome, their difficulty is different, even traps or new types of enemies with random and unpredictable attack styles. However, when players complete a certain amount of levels in each biome, they will receive many excellent rewards for the first time clears.
SMOOTH AND AGILE MOVEMENT SYSTEM
The most convenient and subtle thing from the real-time rogue-like genre is the smooth and flexible control mechanism on each action. Players only need to use one finger to move and dodge, while the character will automatically attack the closest or weakest targets when standing still. That allows players to make the most of the hit 'n run element effectively in a multitude of situations while avoiding compressing or defending against a massive and hectic array of attacks from a variety of enemies.
RANDOM AND FASCINATING SKILL SYSTEM
The skills in Archer Hunter are unique content that players receive when they level up a level but can only choose one of three random selections. Although their functions and effects are random, the three skill types each have their effects, and players can combine new skills to enhance combat performance. Besides leveling up, every five levels, players will receive many buffs or free upgrades depending on the type of biome.
EVOLVE OR ENHANCE THE CHARACTERS' ABILITIES
The character status combinations are expensive and require compatible items that players can only find on the slightest chance through the dungeons or biomes. Besides that, the characters in the game will have a diverse and unique evolution and open up many ideas to develop in the long run. The game will casually introduce new characters on occasions, promising to diversify players' experience and playstyle in their journey.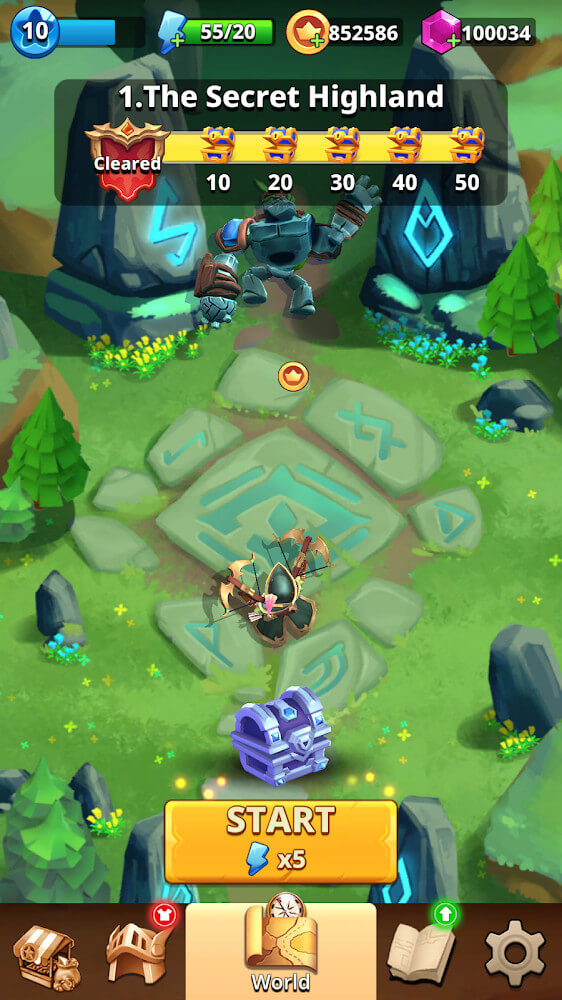 UNIQUE AND GENEROUS MINI-GAMES
Archer Hunter's additional mini-games are exclusive content that only appears in daily time-limited levels, where they receive extra bonuses or rare resources. However, those levels will force players to use available heroes, along with randomly upgraded weapons with ridiculous effects. As players conquer many exclusive challenges across vast lands, the system will have many surprises for them based on individual achievements.
CHANGE EQUIPMENT FOR DIVERSE PLAYSTYLE
Equipment is remarkable in activating different skills or attack effects, even introducing more fighting styles that are exclusives to some weapons. The weapon is also divided into melee and ranged, with additional damage, performance, and difficulty for everyone to quickly get acquainted or discover personal preferences. Of course, players can upgrade the equipment for the best combat performance so that they can roast the enemies with powerful blows.
Archer Hunter has high-paced and exciting gameplay, but its content is full of relaxation and entertainment along with a wide variety of other things. Moreover, it regularly updates with new content such as new weapons, equipment, and boss types so that players always find endless fun in every run attempt.
Archer Hunter v0.18.316 MOD APK (Menu, Money, One Hit) Download