An application to help improve sleep – Calm Sleep – has appeared. This application was born with the desire to reduce the causes of insomnia, not sleeping deeply, waking up in the middle of the night, having trouble sleeping, etc. A free but handy application, let insomnia disappear!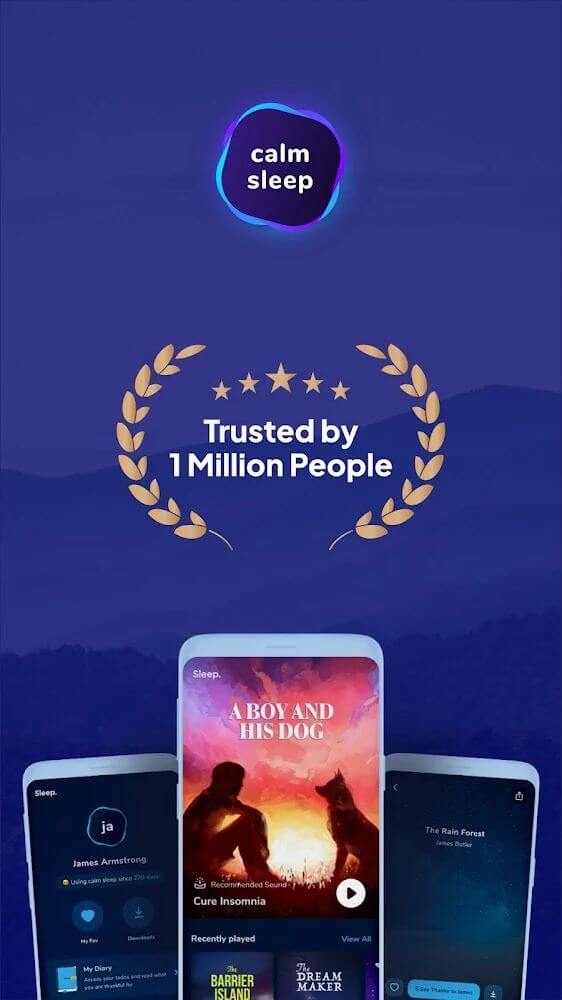 SOOTHING SOUNDS IN A VARIETY OF THEMES FOR YOU TO CHOOSE FROM
In Calm Sleep, there are many selected sounds. Their common characteristics are mellow, light, and bright. You can search for the type of sound you like by theme name, for example, nature, jazz, violin, etc. There will also be many songs for you to choose from in each theme, so to speak. This is like a treasure trove of sounds of peaceful life. Besides, this application also has light music, and ballad music remixed according to softer music.
MAKE A SOUND OR CREATE YOUR OWN PLAYLIST
When you hear a favorite sound like early morning birdsong, gentle breeze, etc., you can also record it and upload it to your collection. Add your favorite songs to a collection and give them a name. That way, you can share your collection with many other users, and maybe your music will help someone sleep better.
PICTURES WITH SOUND ALSO HELP TO PUT YOU TO SLEEP
Science has proven that listening to soft music helps relax the mood, and from there, it will be easier to fall asleep. In addition, the image also contributes no less. In Calm Sleep, there are no projected images like videos but still images. But what increases comfort lies in its color gamut. Those are the dark colors; the light from that color is quite soft and not dazzling. If you don't like the light during sleep, press the screen off button, the music will continue to play.
A SHORT NAP IS NO LONGER AN IMPOSSIBILITY
It is common for people with insomnia to find it challenging to take a nap in the afternoon. What is mentioned here is a short but good night's sleep, not a restless sleep. Not being able to take naps will make your body tired because you can't get enough rest, and you will also have trouble sleeping at night, then waking up tired in the morning. This application has 5-8 minute nap modes; users can choose the short length as they want. It will then give you guided sleep meditation, and gradually after a long time of use, it will optimally improve your sleep.
Don't let insomnia be an obsession every day, as well as a reason why you can't start a new day full of energy. Let Calm Sleep help you solve this problem!
The application helps to improve sleep by sound and say goodbye to sleepless nights, restless sleep, waking up in the middle of the night
Diverse sounds with different themes, most of them are very mellow, gentle
Create your own additional sounds by recording and uploading them to the application. You can combine many favorite songs into one collection and share them with everyone
The lights from the pictures of the songs also contribute to ease of sleep thanks to the light that is soothing to the eyes. If you don't like it, you can turn off the screen, and the sound will continue to play
Select nap mode to receive guided nap meditations at a time of your choosing. Short naps help the body reduce fatigue and make it easier to fall asleep at night
Calm Sleep v0.169 MOD APK (Premium Unlocked) Download