D4DJ Groovy Mix is a rhythm game with a DJ theme where players will join many female characters and complete songs in the best way. With a variety of songs, you will spend time to achieve the highest score of each level. Also, the characters in the game all appear in gacha banners where you will take time to summon and upgrade their potential.

BECOME A DJ WHILE PLAYING EXCITING SONGS
The DJ experience in D4DJ Groovy Mix gives players challenges as they will need to complete the great songs in this game. Every song has a certain number of notes that you will need to hit correctly, and of course, their number is varied and will change depending on the song you choose. So you will develop your skills and gradually gain higher scores throughout the level for impressive rewards.
When starting the game, you will see two discs and between them is a blue bar. You will see some small empty cells corresponding to the places where the notes can fall and force you to match them correctly so that they do not go over this bar. At the same time, the two discs will also be able to be pressed when a circle appears. These factors are completely understandable by the player, but the challenges will begin to appear when starting the game screen.

PLAY IMPRESSIVE CHALLENGING SONGS
When you experience a rhythm game like D4DJ Groovy Mix, you will find many songs with different genres. Precisely, the game can be estimated to own more than 130 different tracks that you will spend time exploring. They all have a different scoring system with a maximum of SS that you will try to score as many points as possible. At the same time, the challenges they present are quite diverse.
The two essential elements that you will be familiar with at the beginning and can match in their respective positions are the bar and the circle. Of course, there will be many other variations that you will see. A line will connect some elements, and of course, you will need to press this line to make it disappear until the remaining element is matched and the minimum linked elements' number is two. Things don't stop there when you also need to swipe in the direction that a bar's arrow points to.

COLLECT CHARACTERS TO ACCOMPANY YOU
Besides the fun and challenging entertainment times, players will also be attracted by the female characters that accompany them in D4DJ Groovy Mix. They all have stunning looks that anyone will be able to attract, and of course, each character will have a different amount of stars. At the same time, you can also find a gacha mechanism to summon them to your team. In addition, their potential will improve and affect the number of points you get at each level.
The items you get through the levels are used to upgrade these characters. Each time you successfully limit break them, the access to the animated card art will be closer, and of course, the number of points they can bring in each level will also be higher.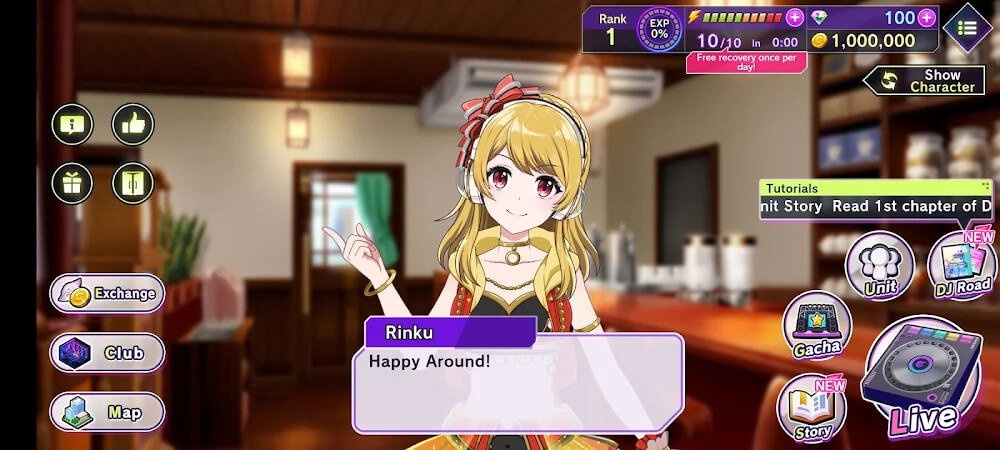 The musical experience you find in the game is captivating because:
Songs of different genres will consume a large amount of players' time and motivate them to achieve high scores in the game.
The gameplay you find is entirely accessible, but it will be difficult to master it because of many notes.
Many different types of notes will appear before your eyes that you have to match them, and the frequency with which they appear will make it difficult for you.
The female characters will be your companions in different performances and boost the score you get.
Character banners are waiting for you to shoot beautiful characters, and animated card art is waiting for you to touch.
D4DJ Groovy Mix v4.5.3 MOD APK (God Mode, Always Perfect) Download