Erudite is an English dictionary application where you will find many diverse languages that help you quickly understand the meaning of words. You can find word meanings, grammar, and even thesaurus to improve the usage you want. At the same time, the application also supports widgets to search the number of words quickly and conveniently in many situations.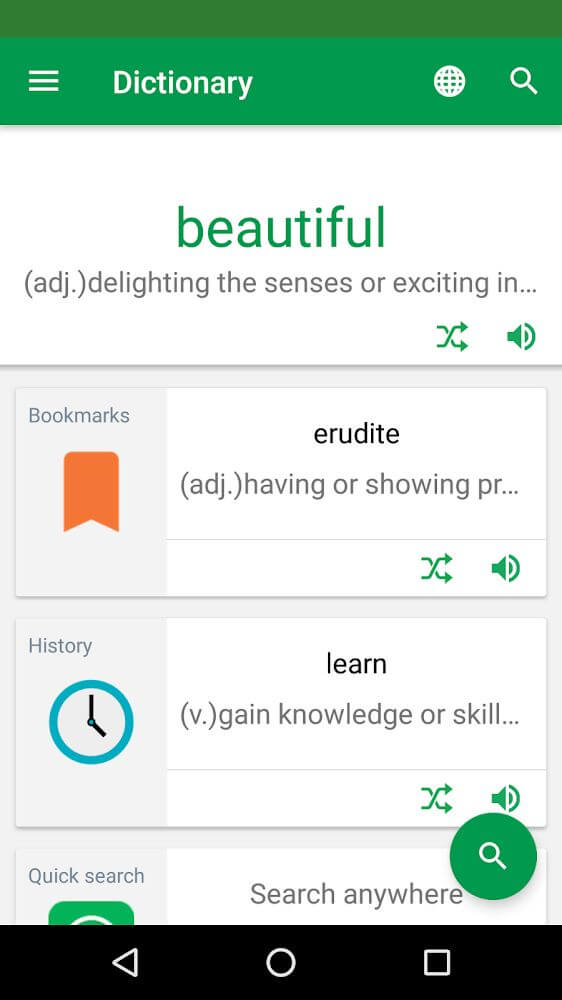 FIND ENGLISH WORDS IN A BILINGUAL WAY EASILY
If you are looking for an English dictionary or are a bilingual user, then you should not miss the English dictionary, Erudite. You can easily access the features of this application quickly with the interface arranged logically. At the same time, in searching for words, you can also find or save the words you have searched before if they have a special meaning or are used.
SUPPORT USERS TO LEARN FOREIGN LANGUAGES
Users can find many aspects of Erudite to help your language learning quickly. You will find it convenient to find examples where the application provides an easy way to apply the meaning of words correctly in many cases. At the same time, it also gives you utterly accurate sample pronunciations similar to native speakers, so you can imitate and improve your pronunciation quickly.
USE THE CORRECT GRAMMAR OF THE WORD YOU LOOKUP
Besides meaning, pronunciation, users also find many valuable things in Erudite such as grammar. You will know how to use the word in a sentence or use the form that matches the tense you are using the word. At the same time, these defining elements are understandable to the user.
USE THESAURUS FOR MORE SYNONYMS
Once you've learned English with Erudite, the thesaurus is a tool that you must use to your full advantage to improve your vocabulary and language skills. Thesaurus helps you find a synonym for the word you are looking for. From there, learn the usage of these new words next to the one you just looked up. So you will be able to continuously change the use until it becomes a part of your memory.
NUMBER OF BILINGUAL DICTIONARIES IN THE FORM
Besides English and the language you use to know the meaning of words more conveniently, you can also download other dictionaries to use depending on your needs. The ways to use a variety of dictionaries are entirely different, and the most common way is to use two languages that you both know simultaneously. It can be considered a difficult use, but there are still benefits when using your language skills to read the application's information.
USE WIDGETS FOR EASY LOOKUP
If you are someone who works with dictionaries, you will be able to use this application conveniently through the widget. You will place the widget on the home screen, and then the application will quickly send you results and helpful information so you can continue your work or study. Additionally, using widgets reduces how often you open apps and only look up certain words. So, the experience it brings is wholly suitable for your foreign language learning and use.
English dictionary brings you many useful features that you should not miss:
The application has features that help you find the English vocabulary you want in a language you understand well.
You can find many different languages to install it to help you understand the meaning of English words or read two foreign languages t simultaneously.
Users can ultimately improve their language through examples, grammar, pronunciation to use vocabulary conveniently.
Thesaurus has always been a valuable tool for those who want to learn English by helping them diversify the vocabulary they possess.
The application can be used as a widget to make it convenient for you to search without opening the application continuously.
Erudite Dictionary v12.12.0 APK + MOD (Premium Unlocked) Download