Fitness Club Tycoon is a light-hearted take on the simulation genre that features stunning visuals. In the game, you will play the part of the manager of a slimming club, and your responsibilities will include managing slimming boot camps, assisting customers who want to lose weight through exercise, and assisting them in regaining their ideal figure. As the owner of this business, it is your responsibility to hire qualified personal trainers, transform this location into a world-class fitness center, and open a large number of locations across the globe.
CREATE YOUR OWN GYM
Scenarios with wide maps that let you grow anywhere! Like the beach theme with a Hawaiian flair? Or do you choose the Amazon rainforest's forest theme? Or do you wish to decorate your gym's exterior with awesome rides? You just need to flick your fingers, and it will be in front of you immediately!
TOTALLY IMMERSIVE AND AUTHENTIC WORKOUT EXPERIENCE
Treadmills, battle ropes, swimming, calisthenics, boxing, and a multitude of other sports are all available, each with their own one-of-a-kind and visually intriguing animation. Feel the fat melting away as you watch the contestants give it their all in each workout! The exciting music will even cause you to move in time with the stances of the other clients.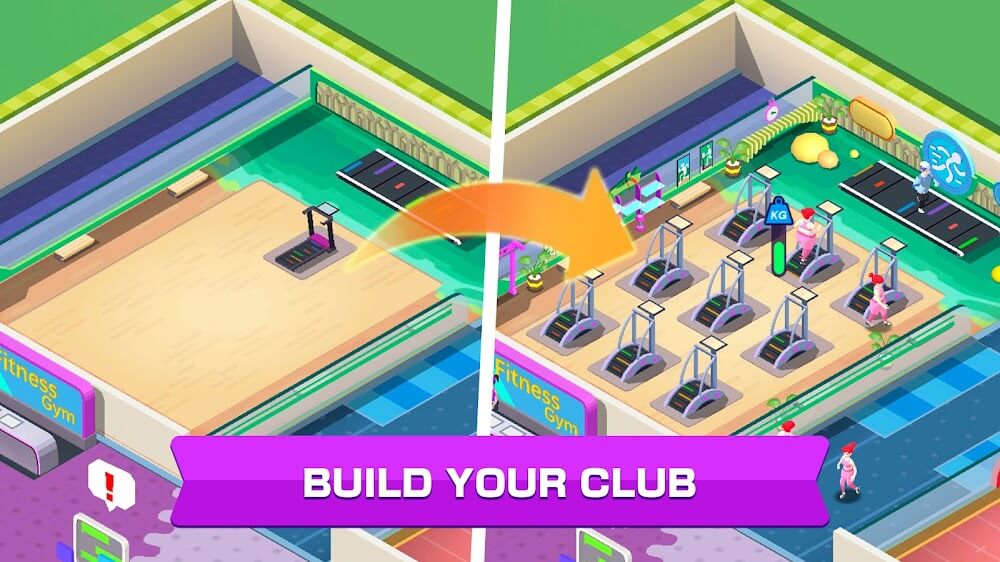 RECRUIT STAFF WITH DIVERSE CHARACTERISTICS
Have you ever come across a cunning worker that wears a wild hairstyle to their place of employment? Have you ever heard of or witnessed a former NBA player coming out of retirement to instruct someone else on how to exercise with a combat rope? A chef who comes to apply for a job in order to reduce weight, and you even have to keep an eye out for him slipping out the food that is being prepared for the clients! However, our trained professionals will keep an eye on those slacker clients for you, and all you have to do is sit back in front of your computer and take in the breathtaking scenery.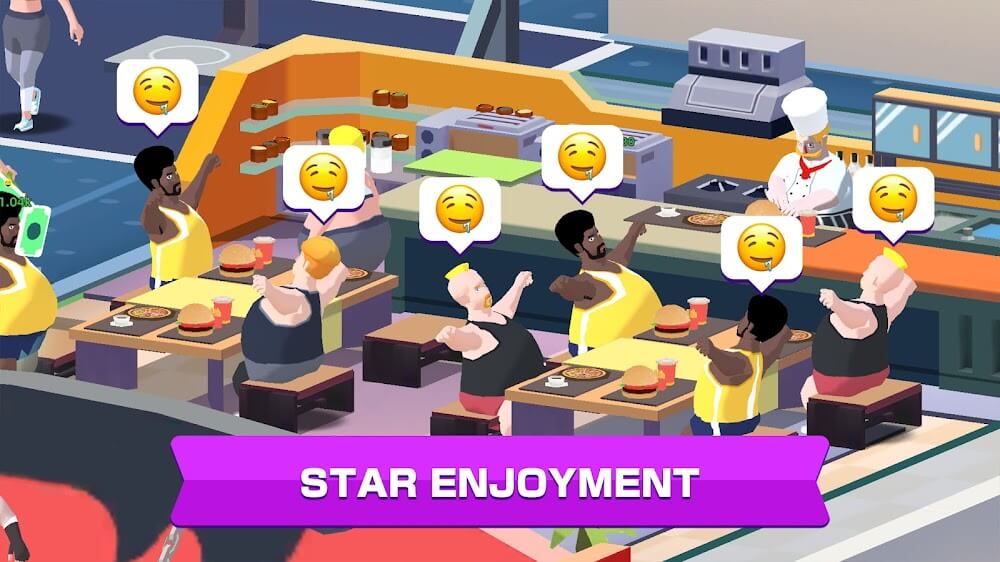 INTERACTION THAT'S BOTH FUN AND USEFUL WITH CUSTOMERS
During the process of weight loss, they need to be pushed to their limits! Those clients who are considering giving up in the middle of the process need prompt encouragement and support to keep continuing. Your clients will ultimately be successful in losing weight, will experience a perceptible change in their physique, and will become more gorgeous and beautiful while experiencing improvements in their health.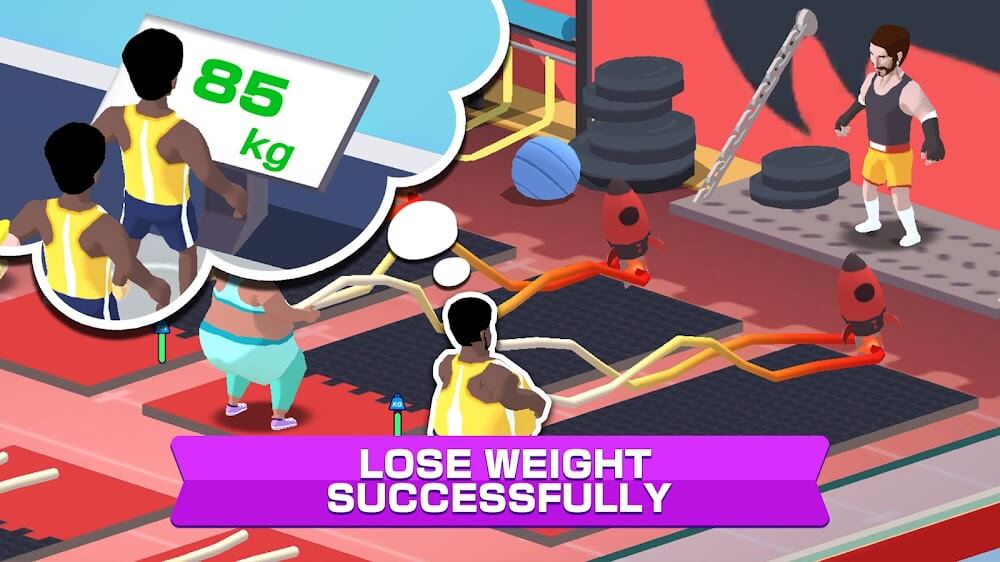 Additionally, they require energy in order to exercise! Don't forget to supply them with food, drinks, and even leisure services like spas and private cinemas; they will really adore being here, and you will move one step closer to achieving global recognition as a result.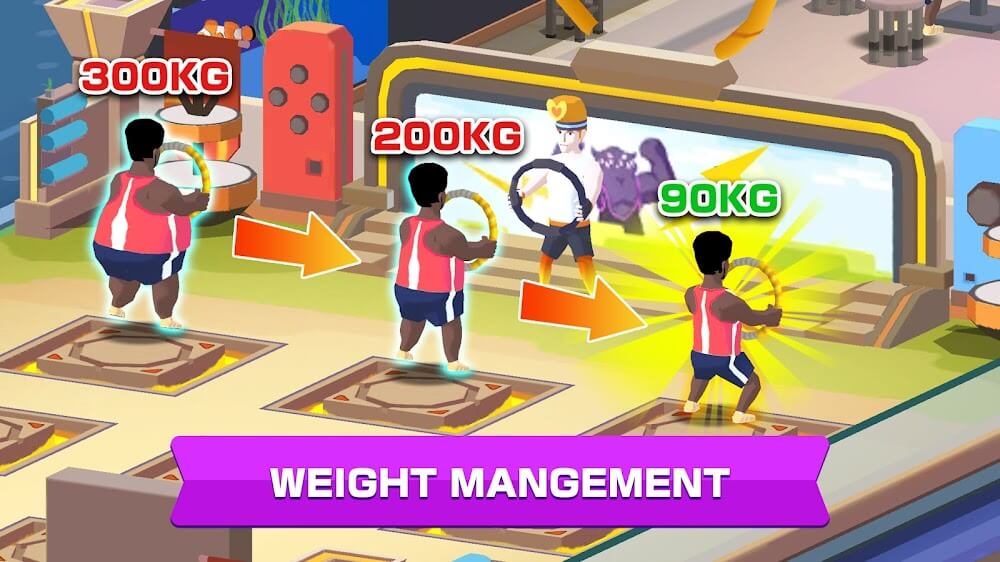 KEY FEATURES
Those that are committed to their fitness and regularly visit the gym.
Beautiful men and women that are looking to be in shape and feel more confident in their bodies
People who are new to fitness and wish to lose weight but adore eating out will find this book helpful.
Players that wish to play whenever and wherever they want and generate earnings while doing so are considered casual players.
Those looking for a simulation or idle game that is worth their time will enjoy this one.
Management experts who take pleasure in constructing and advancing their characters through simulation games
Fitness Club Tycoon v1.1000.156 MOD APK (Free Shopping) Download