Floor Plan Creator guides you through designing and decorating your dream home by yourself, handy software if you are planning to buy a new house. With a system of practical features, the application allows you to visualize the ideas of room and interior layout to create a good home. You can freely adjust the area, length, width, change the position between areas in the house or upgrade to add new amenities.
FURNITURE AND DECORATION
If you are planning to buy a new house or are looking to learn more about architecture, this software was born for you. With many outstanding features, a simple and easy-to-use interface will bring you great experiences in the process of learning as well as sketching your dream home. A comprehensive and diverse product library allows you to choose the interior you like; from selecting a size, height, length to the floor and walls, you can combine with different interior styles and colors.
In addition, the design of the house can reflect a part of your personality; continue to sketch out the ideas and some decisions you already have in mind to create a great design. Wide range of furniture and home decor, icons, shapes found in the floor plan icon library you decorate your home the way you like using design tools—precise measurements and guide you to design the house of your dreams. Download now and use it to get the best experience this application offers.
CREATE YOUR OWN FLOOR PLAN
Want to come up with ideas for your home design but worry that you don't have professional design skills? Floor Plan Creator helps you solve this problem by providing a wide range of ready-made icons, furniture, decorations, and templates, guiding you by hand to help you design your ideal home. You will be guided and personally selected the size, color, furniture, and decoration according to your preferences to create a quick design that you desire.
Designing your dream home has never been so easy; choose the layout, color, and interior decoration you desire. All it takes is a sketch of your idea and start designing or choosing from the templates available from the catalog; the software will guide and follow you wholeheartedly, so there is no need to worry. Any exceptional sketching or technical knowledge to work with Floor Plan Creator
SCALE TOOLS
To make sure everything is correct in your design, use the built-in scale tools, which can help you automatically calculate room, floor, wall, and leveling, providing a number of symbols correctly. As you adjust, changing elements of your plan will display the correct proportions and sizes for you to choose from, making the building and design process as easy as possible. In addition, you can easily change the weighing unit and accuracy at any time. Therefore, the process of creating your own home will be precisely designed and detailed in many situations.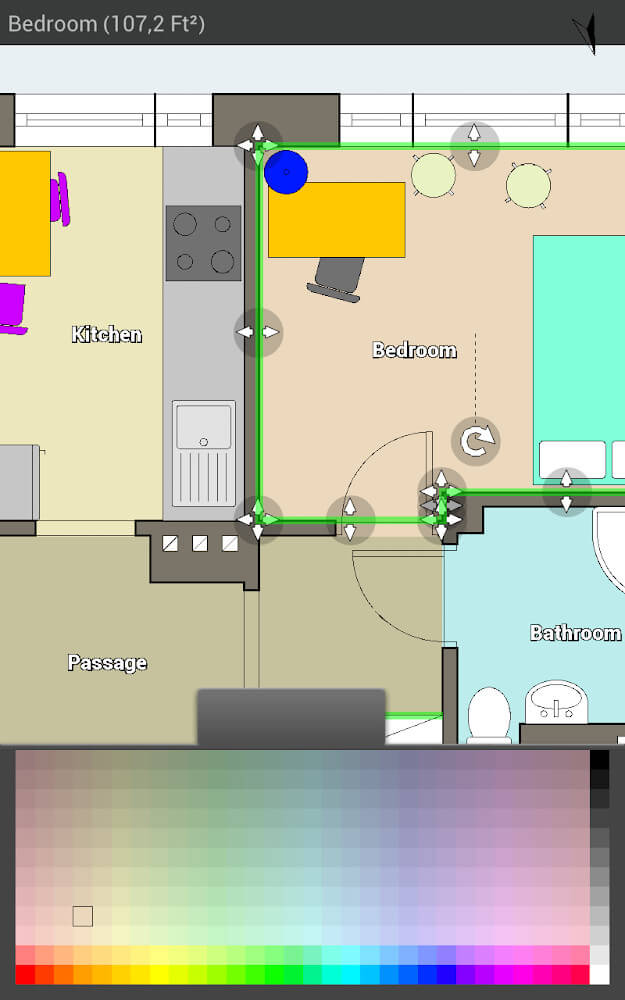 Floorplanner gives you a great platform and a flexible, accurate, and easy-to-use space planning solution. The home design experience has never lost its charm; let's see how this application will bring exciting adventures. Extraordinary things are waiting for you to discover; designing has never been easy. What are you waiting for? Download and experience it right away!!!!
KEY FEATURES
– Built-in scale tool, measuring tool, whole dimension with high accuracy
– The app allows you to automatically back up and share your engineering drawings across multiple devices
– Manual design instructions, allowing you to use a pen to draw to create a private space that you dream of
– Great data-saving feature to help you not worry about device capacity problem
– Diverse indoor interior simulation library providing home appliances, furniture, electrical systems,…
Floor Plan Creator v3.6.2 MOD APK (Full Unlocked) Download