Hunting Clash is a hunting game where players can travel to many places to explore and hunt different animals. They all have their values , so there will be many ways to do your hunting correctly. At the same time, the number of animals and completely diverse environments will motivate players, and the mechanics of the game will make your hunting process more exciting and more effortless.

THE REALISTIC AND IMPRESSIVE WORLD OF HUNT
You will take on a vital role in Hunting Clash to become a hunter, and your goals are high-value ones. So you will be able to travel to various locations and utilize your sniper abilities to take them down quickly. The gameplay of this game is entirely accessible to many people because you do not need to worry about the reflexes and move inside the environment. You need to find a way to shoot down the animals you see.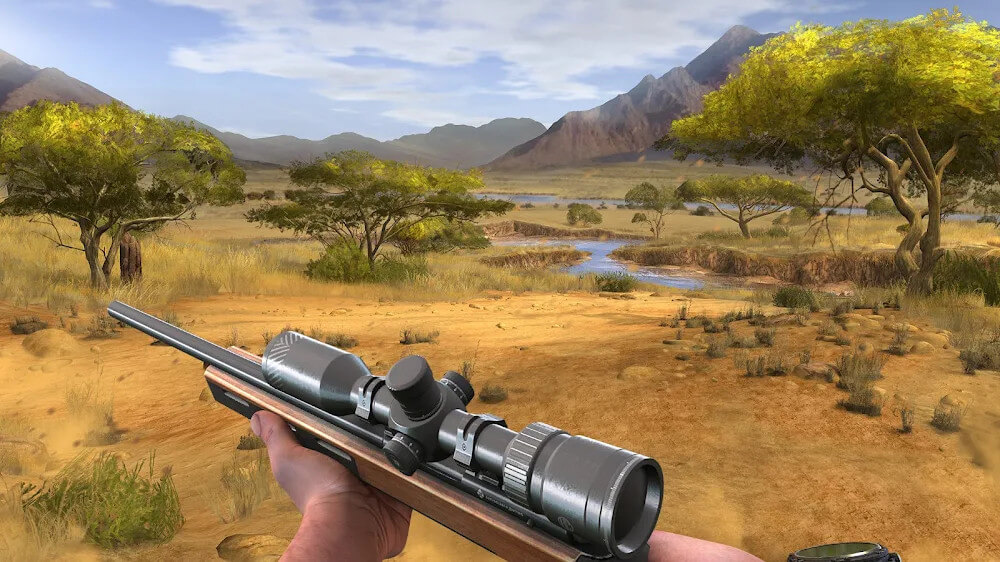 You will control the character from a first-person perspective and receive weapons from the beginning. When you press the button to start the game, the character is already aiming, so you only need to pay attention to the two buttons that move the observation angle and shoot the target. You can freely move the angle of view, and the gun's magnification will also increase to help you accurately shoot. After all the elements have been secured, you will attack and see your results after the hunting session.

HUNT MANY TARGETS AND IN MANY PLACES
The interface of Hunting Clash is stunning, and you can see the character that has appeared in a specific hunting location. Just press the Hunt button, and immediately, the character will start targeting, and you need to adjust your viewing angle accordingly. At the same time, there will be many targets appearing in your sight, and you should shoot at the body part to defeat them immediately. Each level will allow you to get a unique animal and know the exact percentage of each shot and the amount of money you get.
For those who play hunting, scrolling through multiple levels is a necessity to discover new animals. So you will try to progress inside the level to unlock new areas with impressive looks and diverse natural features. It's also your chance to meet new animals if you're lucky. From there, you will have yourself a collection of lure cards of the animals you hunt.

CREATE A COLLECTION OF LURE CARDS
In Hunting Clash, an element that will help you meet higher-value animals is the lure card. The lure card will allow you to select the object you want to hunt, and this is a feature that helps you in many player game modes, including Championship. At the same time, to increase the card's efficiency, you will need to collect a similar number of cards to increase its effectiveness through levels. In addition, the animals you hunt will help you unlock a lure card.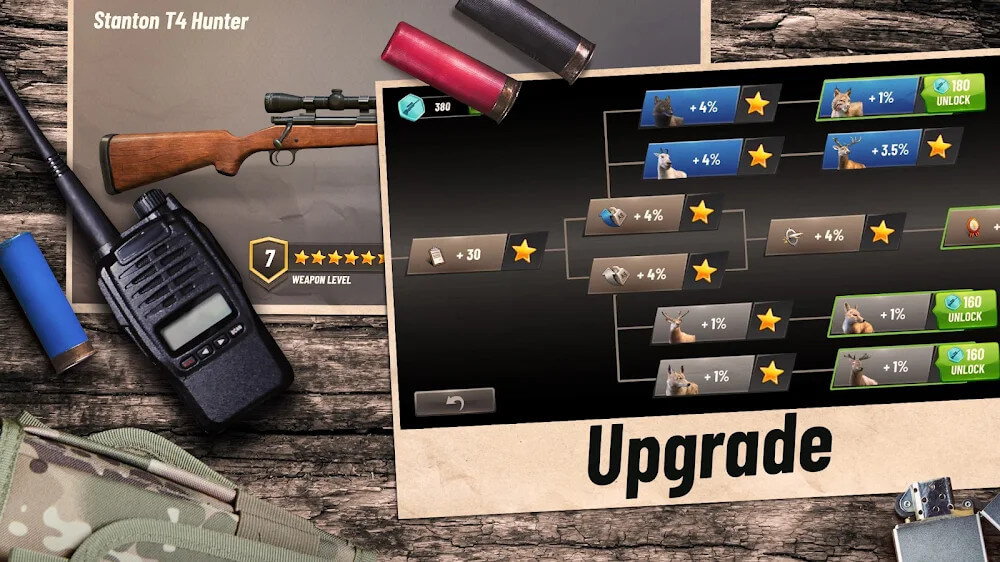 Hunting is the core of this game because it helps you achieve many things, one of which will be silver coins. Your weapon will have different properties and is similar to a skill tree in RPG games. So when you unlock and increase the effectiveness of a skill, it affects the results you can get in the game. For example, the first skill you get is to increase the number of silver coins you get after each match.
Hunting Clash v3.16.0 MOD APK (One Hit, Auto Aim) Download