Idle Restaurant Tycoon is a game with idle gameplay where players will observe how a restaurant operates and find ways to grow. You can easily upgrade through the available money to attract more guests to come. At the same time, you can also add many new elements to help you generate more profits; performing tasks will bring many exciting rewards.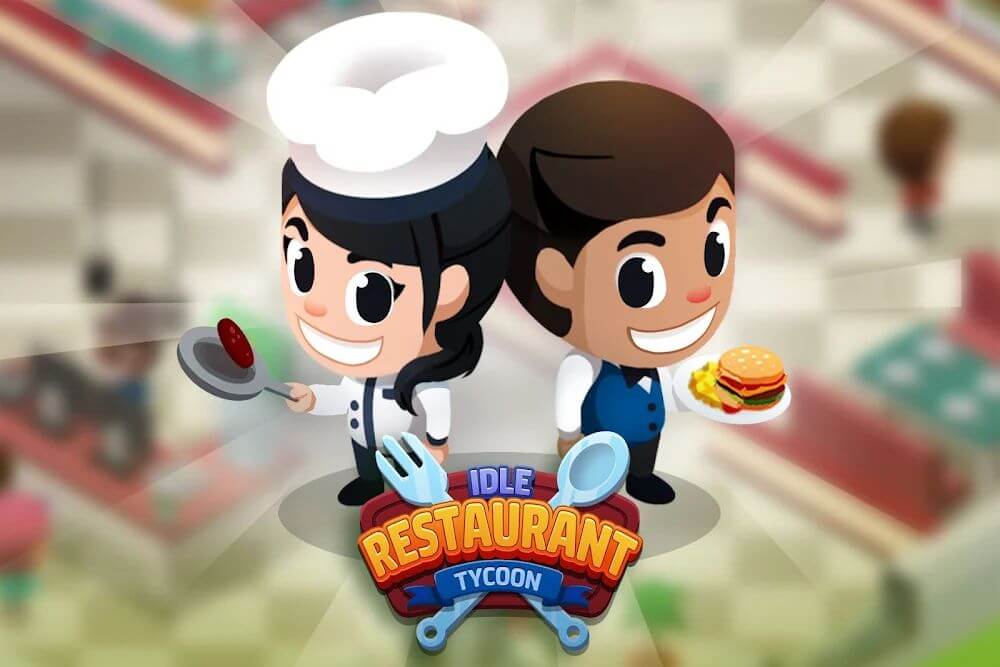 GROW YOUR RESTAURANT
In Idle Restaurant Tycoon, you will have yourself a restaurant with a large area full of different rooms to operate. Your job in this game is straightforward when you will be the one to help it develop and upgrade the furniture to collect more money from the guests coming. At the same time, your restaurant will have a certain amount of energy to use and ensure other factors go smoothly.
It can be said that this restaurant owns a large space and has different equipment available, but it is still not enough. Specifically, there is only one table, and it can only serve two guests at a time, so if many guests are coming at the same time, you will not be able to serve them all. At the same time, you also need to choose the necessary elements to upgrade and increase profits for the arrival of guests. That will be an interesting challenge where you will show your management talent.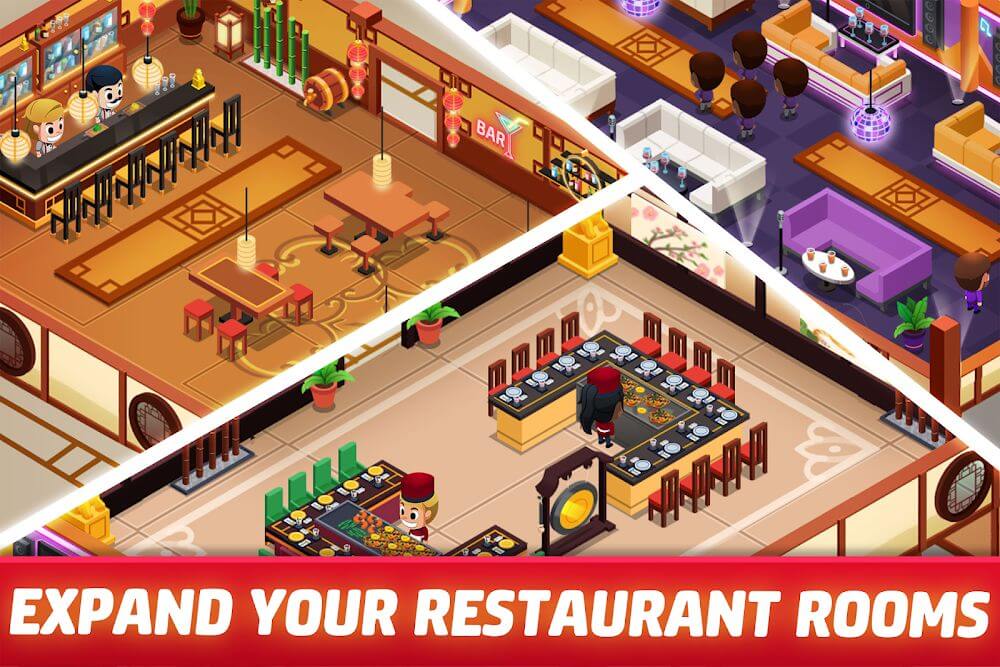 UPGRADE AND BUY THE NECESSARY THINGS
In Idle Restaurant Tycoon, you can touch the available interior elements inside the restaurant, and of course, it will display the corresponding information. You can easily use the money you have to upgrade the effectiveness of the furniture, and each type will have a different effect as you upgrade. For example, you can upgrade the tables and chairs to get more money for each guest service. In addition, you also find some elements to make the receptionist or chef work faster.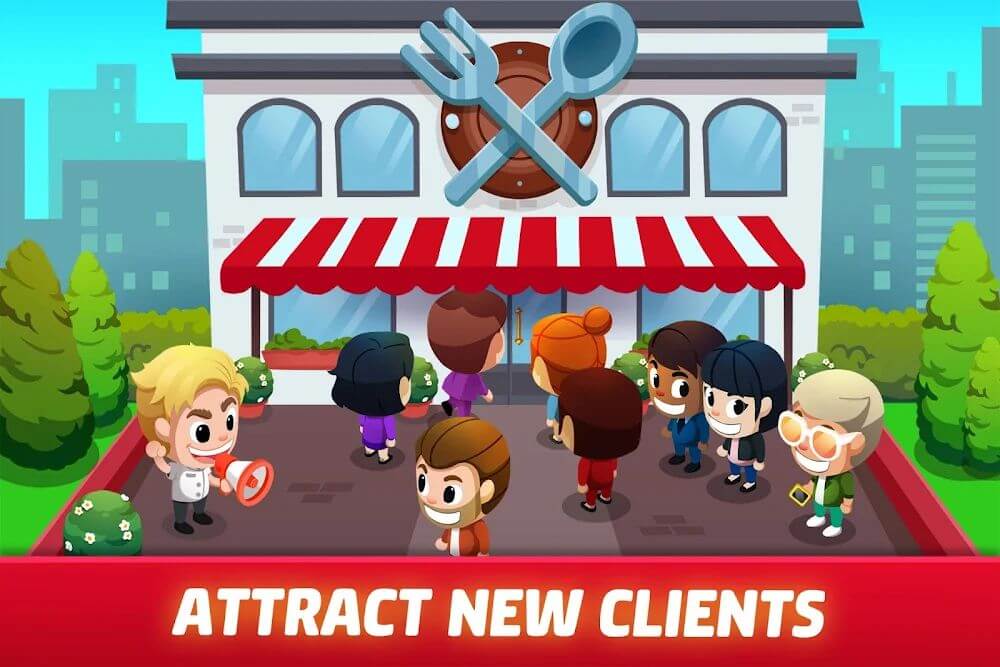 Besides the available elements, you also need to add new details to serve more guests and earn more money. A rather wrong point for players at the beginning of the game is that you will take advantage of them to upgrade the available things. It also benefits you, but you should focus on important things like buying more tables to serve more guests and not waste the money you've already spent on marketing.
Besides impressive interior and design, you also have many tools to attract more guests to your restaurant. You will use a part of the money you have to implement different marketing campaigns, and you will certainly not be able to ignore the guests who come to your restaurant.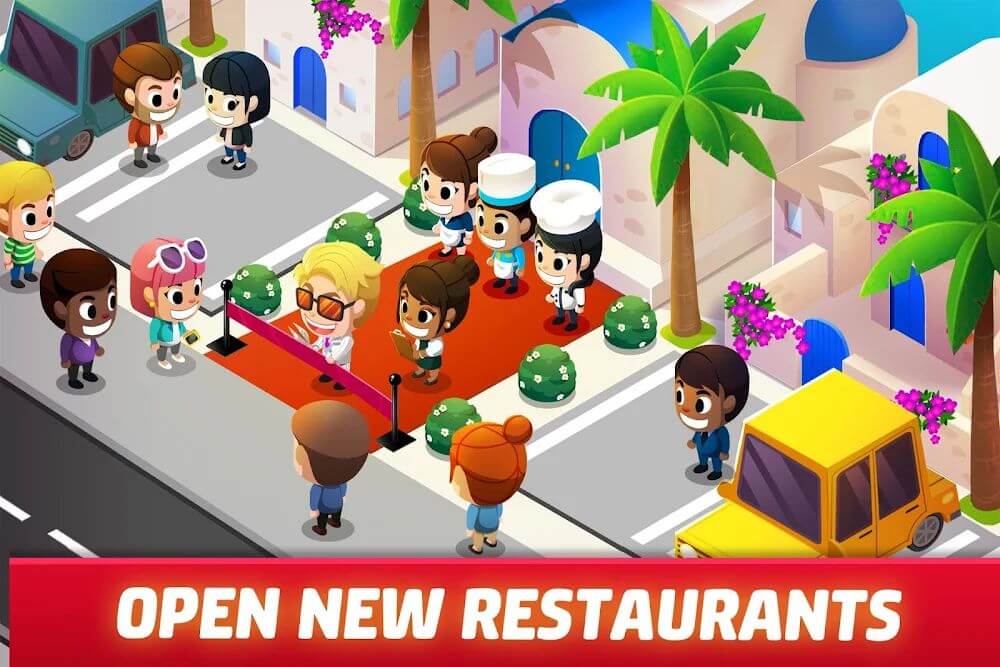 PERFORM QUESTS TO EARN MORE MONEY
One interesting thing you can do in Idle Restaurant Tycoon is to do a quest if you don't know what to do next. Each mission gives you a certain amount of money, and the number of tasks is utterly diverse with different requirements. At the same time, it also helps you approach the game's mechanics and start having the correct development strategies so that the restaurant can grow better after each upgrade.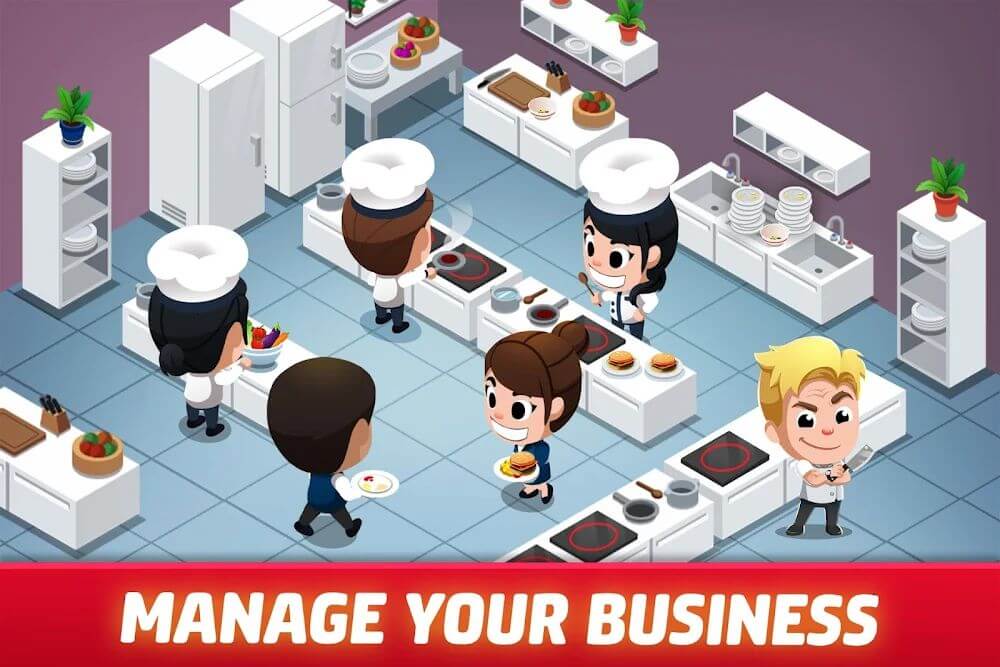 Many exciting experiences when you manage a restaurant in an idle style:
You will be the one to ensure its development and the profits will be sent to you automatically.
The available furniture can help you welcome guests, and you can easily upgrade to improve service quality.
With limited furniture, players need to buy new furniture so as not to miss any guests.
You can carry out marketing campaigns in many different ways to attract more people to know your restaurant.
Various quests help you familiarize yourself with the game's mechanics and offer impressive rewards that you can't miss.
Idle Restaurant Tycoon v1.32.0 MOD APK (Unlimited Money) Download