The farm theme is probably no longer strange to everyone, and it is almost always popular in the market with positive reviews. You will experience a unique farm model and transform into a real farmer. Manage your farm and take part in the exciting stories of Jane.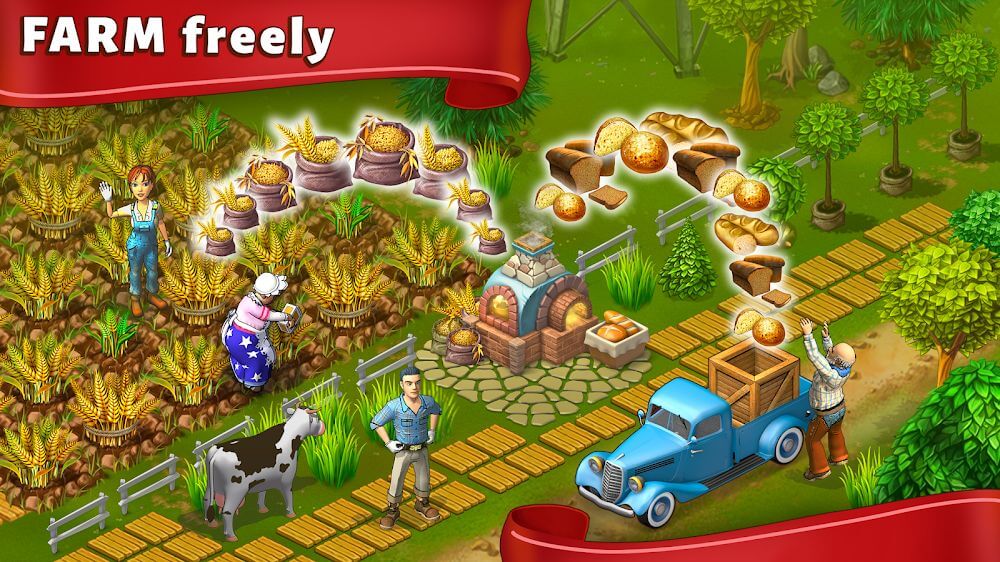 START YOUR FARM REBUILDING JOURNEY
Jane's Farm will be the door that brings you to the world and new adventures, through which you will learn more agricultural skills as well as know-how to manage the farm thoroughly. At the beginning of the game, you will learn about Jane's family and how her family farm works. The farm here is all the inheritance that you need to take good care of. With simple gameplay, you will start the repair mission and refurbish everything to start a new journey. Everything is up to you to decide to use the skills of a simple farmer and build a farm.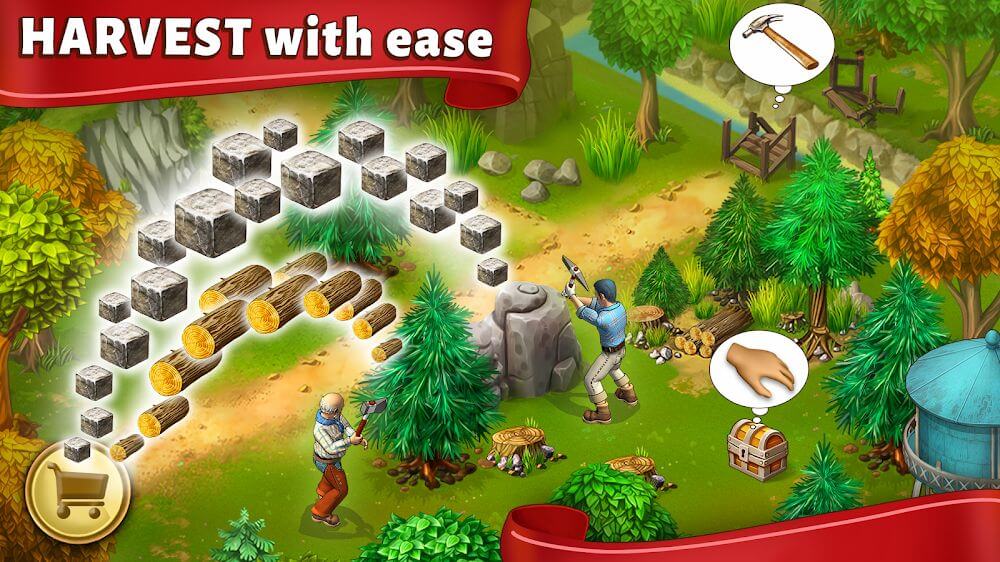 TAKE CARE OF THE ANIMALS AND PLANTS ON THE FARM
Considered as a green paradise, Jane's Farm will let you experience the feeling of being in harmony with a world of diverse plants and animals. Jane's grandmother is a metalworker and knows all about vegetables and fruit trees, so you will be guided carefully when you start the game.
You will start from a small garden with barren and wildland because it has not been taken care of for a long time. Your task is to revive its inherent green life and embark on germinating new seeds to cover the entire farm. In addition, you have to stick with it for a long time as well as work hard for the farm to grow.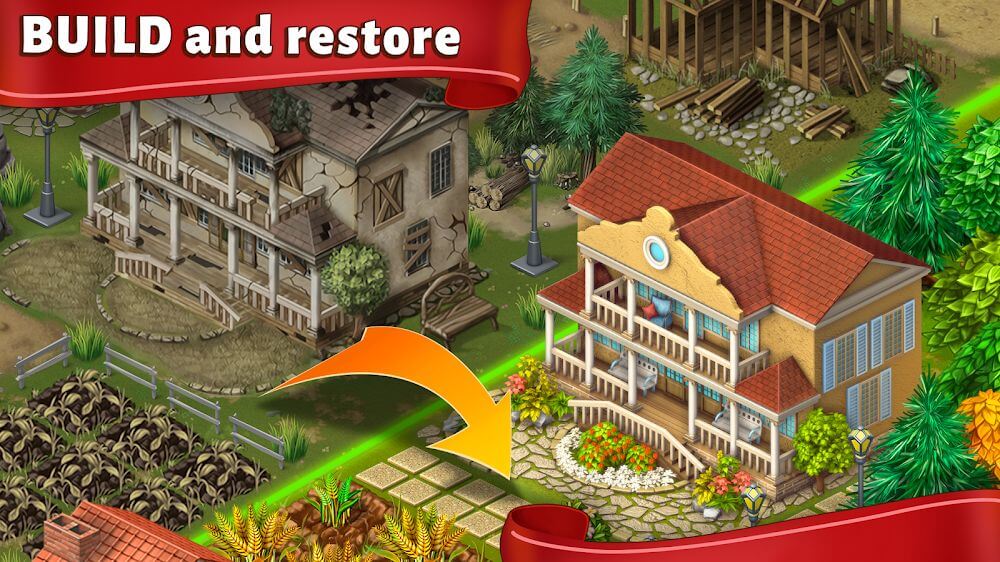 REPAIR AND REFURBISH THE HOUSES ON THE FARM
Although starting from a small garden, you need to expand the space for the farm to grow more plants. The houses inside the farm have gradually decayed and need to be repaired, don't worry because Jane's family will do their best to help you decorate.
With help from Jane's husband, he'll guide you through fixing the animals' cages, excavating stones from the woods, and cutting wood with all his heart. After being carefully guided, you can apply and turn your farm into the most wonderful and cozy paradise with the presence of a series of attractive green trees.
TRADE-IN HARVESTED ITEMS AND PLAY WITH FRIENDS
You will be taught all about effective business methods by Jane's grandfather – an experienced businessman. With many years of experience in the industry, he will show you how to identify objects that increase profits when trading. Through that, you will be able to expand relationships with partners to facilitate the sale of items on your farm. In order not to be boring for players, the manufacturer has created additional holiday events with a variety of unique decorations for your farm. Also, the experience with your friends will increase the share and get help from them.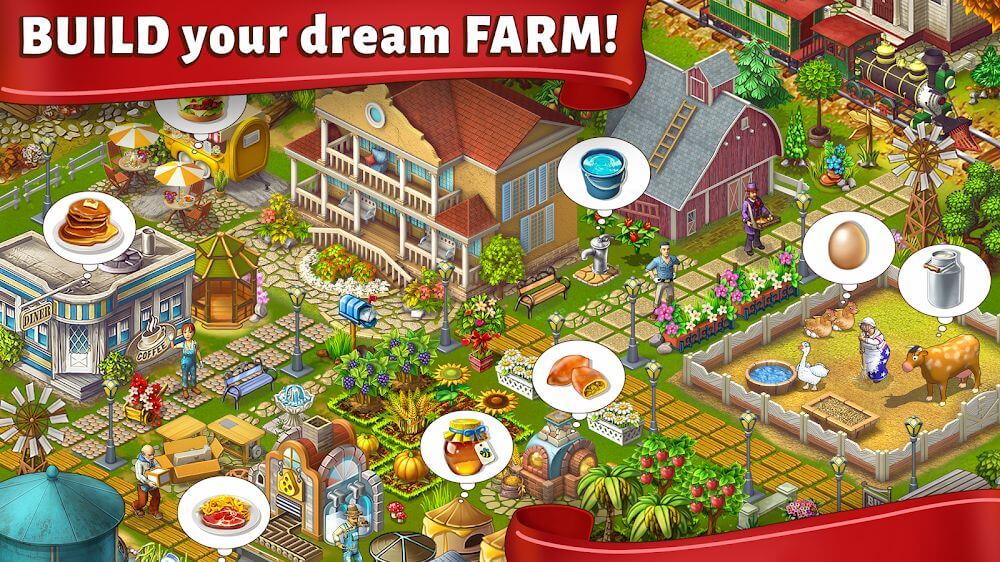 KEY FEATURES
Embark on a journey to renovate your farm and customize everything to your liking to make your farm perfect and unique
Transform into a real farmer and start the process of sowing new seeds, thereby learning and gaining farming experience from this simulation game
A variety of animals, plants, goods, and productions are waiting for you; start working from the simplest things like sowing seeds and taking care of animals
With simple operation, you will be enthusiastically guided by Jane's family on how the farm works as well as the method of trading the finished products harvested from the farm.
Experience with friends and help them overcome the challenges of the game together, if you are looking for an attractive farm game application, this is the perfect choice for you.
Jane's Farm – FarmUp v9.14.7 MOD APK (Unlimited Money) Download