King Of Defense: Battle Frontier (Merge TD) will be a unique tower defense game that gives players a lot of experience. With this game, you will be able to unleash your creativity to create special strategies. From there, defensive towers will be built to protect the kingdom from the invasion of hateful monsters. If you are a fan of tactical gameplay and enjoy the game through your strategy, this will be the right game for you.

SPECIAL DIFFERENCE OF GAMES
The game has a tower defense style that is often complained by players about being boring. But to be able to break those thoughts with this game genre, the developer of the game has added to his game a lot of extremely remarkable diversity. The first will be the variety from the fascinating monster system. The game will give you a lot of different types of monsters, from flying monsters to monsters with special fighting skills.
Along with that, players will be able to participate in many different types of maps that are already equipped. Depending on the matches you participate in, you will be able to experience many different, particularly harsh terrains, from hot deserts to dangerous jungles or cold lands filled with white snow. So players who experience this game will never get bored because the game's features will constantly change.

SIGNIFICANTLY IMPROVED HERO AND ARTILLERY SYSTEM
The first thing that can be mentioned is the remarkable improvement of the ability to build towers. With normal cannon defense games, players will only build themselves a tower with a single function that it can perform. But with this game, you will be able to build stacks and combine different types of cannons to create the best effect. Besides, you can see the variety of opponents or difficult terrain; King Of Defense also gives you powerful weapons.
Heroes and towers in this game will be easily upgradeable so that players can increase their strength. Besides, the tower system will be upgraded so that players can freely show their tactics; the heroes will also be practical support. The game will add to the hero player with unique functions such as melee, archery, … standing around, and protecting the tower.

SPECIAL GRAPHICS OF THE GAME
One of the strengths of this game that definitely needs attention will be the graphics. The game owns an amazing cartoon graphic style. From heroic characters to monsters, every detail is carefully cared for before being put into the game. Therefore, players will be able to feel the unique authenticity that comes from the characters' actions inside the game.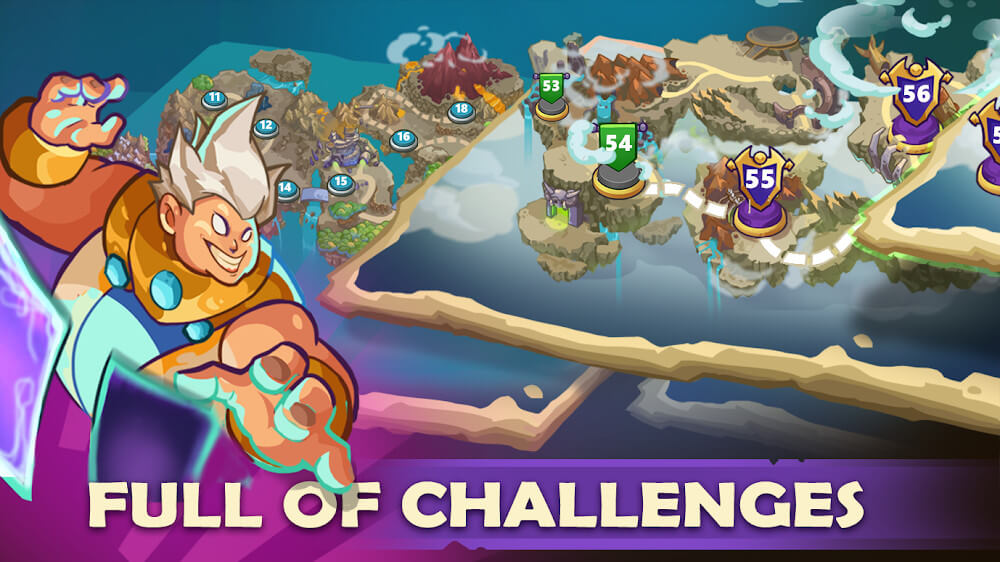 Moreover, the developer has continuously upgraded the game's graphics through large and small updates. Therefore, players will now experience a graphic quality at the highest level. From the minor details to the map, the vast terrain is displayed on the player's device screen clearly and sharply.
If you are thinking for yourself that all tower defense games are boring, there is no change; you are wrong. When coming to King Of Defense, players will experience a tower defense game but continuously improve their features. From the details of the graphics, the typical tower building gameplay, or the hero and monster characters,… All are waiting for you to experience inside this game.
KEY FEATURES
The turret stacking and combining functionality provides players with extra alternatives for executing the most effective strategies.
The mechanisms of heroes and turrets have been upgraded to be more robust and strong. A large number of choices may be upgraded based on the player's approach.
Terrains ranging from deserts to jungles to freezing areas are encountered. Players must develop sound tactics for each sort of terrain they encounter.
There is a wide variety of creatures, ranging from flying monsters to monsters with particular abilities.
King Of Defense v2.0.7 MOD APK (Unlimited Money/Unlocked) Download