NokoPrint is an application that allows you to use your Android device to connect to different printers and perform printing efficiently. You can preview the document before printing and set the settings correctly. Also, there are various printing methods that you can choose from depending on your needs, and there are multiple document repositories where you can easily find and execute print jobs.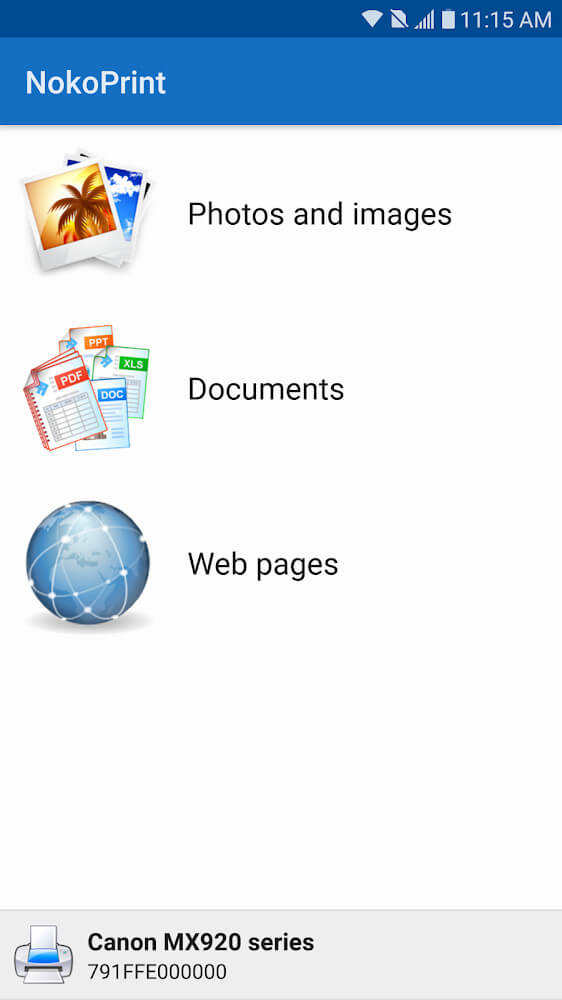 PERFORM PRINTING USING YOUR ANDROID DEVICE
In NokoPrint, users have complete access to a convenient way of printing as you can set up print jobs with just your Android device. You will connect to the list of printers that the application supports and then print the documents you want. At the same time, these operations are done quickly, so once you know, the printing process will happen quickly and be suitable for those busy at work.
CONNECT TO THE PRINTER THROUGH VARIOUS WAYS
When you want to connect to a NokoPrint printer, you will get three main methods: WiFi, Bluetooth, and USB-OTG. So you will choose the suitable method and switch between them through the icons on the screen. You may find that your device is not compatible with the printer or the driver is unavailable, so you will need to access many lists of drivers for different printers.
SUPPORT A VARIETY OF DIFFERENT PRINTERS
A notable point when you access NokoPrint's driver installation list is the variety of options you cannot ignore. You will find different folders corresponding to famous printer manufacturers, and you need to click on them to find drivers and setup settings. At the same time, you will find well-known brands such as HP, Canon, Epson, and many others. So you will be able to check the detailed information provided by the app.
PRINT A VARIETY OF DOCUMENTS
Once you've connected to the printer you're using with NokoPrint, you'll be able to start printing any file you want. There are many types of files that you can print with the application, such as the image files you already have or the office document files. At the same time, the application also supports printing multiple photos on the same page, so you can adjust the quality of the printed document to match your wishes.
SET ELEMENTS BEFORE PRINTING
Once you've selected a document and want to print it right away, you'll undoubtedly be able to access the app's settings and change specific settings. Specifically, you can easily select the number of copies, page range, paper type, and more. It would certainly be prudent for anyone to preview the printed document to correct these adjustments. You certainly won't need to make these adjustments with many other devices.
SUPPORT VARIOUS PRINTING MODES
Besides the basic settings, you can find different print modes depending on the printer features available. In particular, you can decide whether to print one-sided or two-sided to save as much paper as possible or to suit your business purposes. You can also select borders when printing an image and decide whether to print in color or print in black and white. So all features can appear before the user and require them to make a suitable adjustment before printing.
PRINT DOCUMENTS FROM DIFFERENT PLATFORMS
When you experience the application to print any document, you can choose the source of the document you want. These can be documents that already exist inside your device or on cloud storage and other file storage platforms. So all operations will become more convenient when you can access the files you are storing and place the print job after successful setup. It can be said that this is a tool suitable for many different audiences.
Users will take advantage of the application's useful features to perform printing:
The application allows you to connect to your printer in different ways and easily print documents once the connection is established.
You will have some driver-related issues and may find directories of different printer manufacturers to install it with the full printing experience.
The printed documents are quite diverse, and you can set some parameters before printing and observe the quality through the preview feature.
The application supports different printers types from famous printer manufacturers, and you can refer to the complete list to use the full application features.
There are many document storage sources that you can use to print documents, such as in devices or cloud storage platforms.
NokoPrint v5.4.22 MOD APK (Premium Unlocked) Download