Smule is an application that makes it easy to sing many of your favorite songs and share your performance on many different platforms. You can find many hot songs right now and sing them as your wish alone or with others. At the same time, you can also record your performance, edit it before posting to different platforms. So you will be able to satisfy your passion completely.
USER-FRIENDLY INTERFACE, EASY TO USE
When you start using Smule, you will surely be able to see the easy-to-use interface it possesses. Precisely, similar to music-related applications, the interface will be divided into many different tabs for user convenience. You can find various songs in the songbook tab, explore tab that helps you find new songs, and profiles are where your information and recordings are stored. In addition, the feed operates similarly to a social media newsletter.
CHOOSE SONGS TO SING IN YOUR WAY
After you've spent some time learning about the functions included in Smule, you'll be able to start searching for songs you like within the app. You'll be able to see the sing button next to each song, and when you tap it, you'll be able to choose how many people perform the song. You will then find an interface for you to sing with the lyrics continuously appearing and below that is the pitch to help you sing the song at its best.
SING WITH OTHERS SIMPLY
Indeed, you will desire to sing with others when experiencing Smule because of the fun it brings. Big artists are ready to duet with you through their famous songs, and you can also show your singing skills easily. At the same time, you can also find a recording with other users, and if you have a group of friends with similar interests, it is possible to create great performances.
CREATE RECORDINGS WITH EASE
You can easily record your recording with a different number of participants that you can choose before recording with Smule. You will find the ability to edit and add sound effects that correspond to your desires. Specifically, you can give different sound effects or not if you want to show your authentic voice. In addition, filters with different colors are convenient for the color correction of your videos.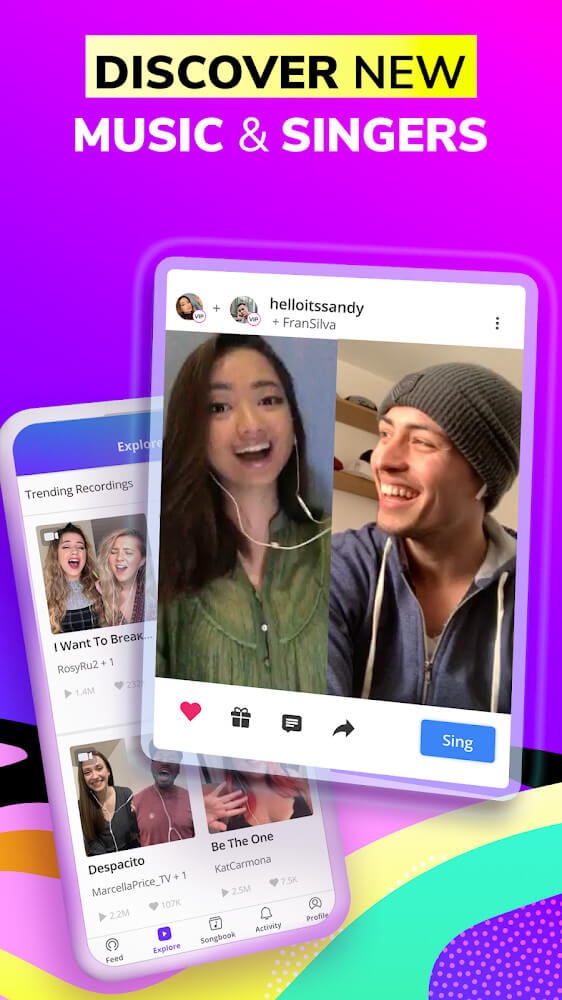 DISCOVER NEW SONGS IN MANY WAYS
One thing that users will like about this app is the feeds of new songs that you can find within the app. You can find songs in the explore tab and other people's duets, and when you see an impressive performance, you'll want to sing it right away. In addition, the application also supports a feed feature so that you can surf the news boards and see interesting information created by other users. It is also a useful search source for users.
SHARE VIDEOS TO DIFFERENT PLATFORMS
You can share your vocals to various platforms in a variety of ways. Specifically, you can conduct live sessions on the application to attract the attention of other users. At the same time, you can also prepare a video of your performance carefully and confidently share it on different platforms. Surely you will be proud when you receive compliments from relatives and friends after they hear your performance.
FEATURES
Sing along to over 10 million of your favorite karaoke songs as the words scroll by! Karaoke is available at any time and from any location.
Song-singing may be done individually, in a duet or in a group, acapella, or by just enjoying another singer's performance.
Enhance your voice with studio-quality audio and music effects to make you sound incredible.
Organize or participate in a live karaoke party! Sing LIVE with audio 24 hours a day, 7 days a week with friends and music lovers all around the globe.
You may record with your camera turned off for audio-only performances, or you can turn it on and get creative with interesting visual effects and filters.
Recorded duets with major music artists such as Dua Lipa, Olivia Rodrigo, Charlie Puth, Ed Sheeran, legendary Disney characters, and more will be available for purchase.
Organize all of your recordings in one convenient location on your unique Smule profile page. As you practice and learn to sing, you may either keep your recordings private or share them with the Smule community.
Post your music performances on TikTok, Instagram, Facebook, Snapchat, Twitter, WhatsApp, and other social media platforms. •
Make your own music videos! Record your audio and voice first, and then include your own video.
In Freestyle, you may make your own music by recording an original song and inviting others to join you.
Participate in new Smule challenges and competitions every month for a chance to win prizes and get recognized.
You may make unique musical greetings for your family and friends.
Learn to sing with the help of an on-screen pitch guide and Smule lessons.
With 'Moments,' you may search for popular music and sing just the parts of the song that you like the most.
Record yourself narrating sequences from films, musicals, and other media.
Smule v11.0.5 MOD APK (VIP Subscription, Free Coins) Download