Solitaire: Cooking Tower is a game that combines the Solitaire card genre and the construction game genre. The combination brings an entirely new and different style of play and creates quite a lot of mutations in the gameplay.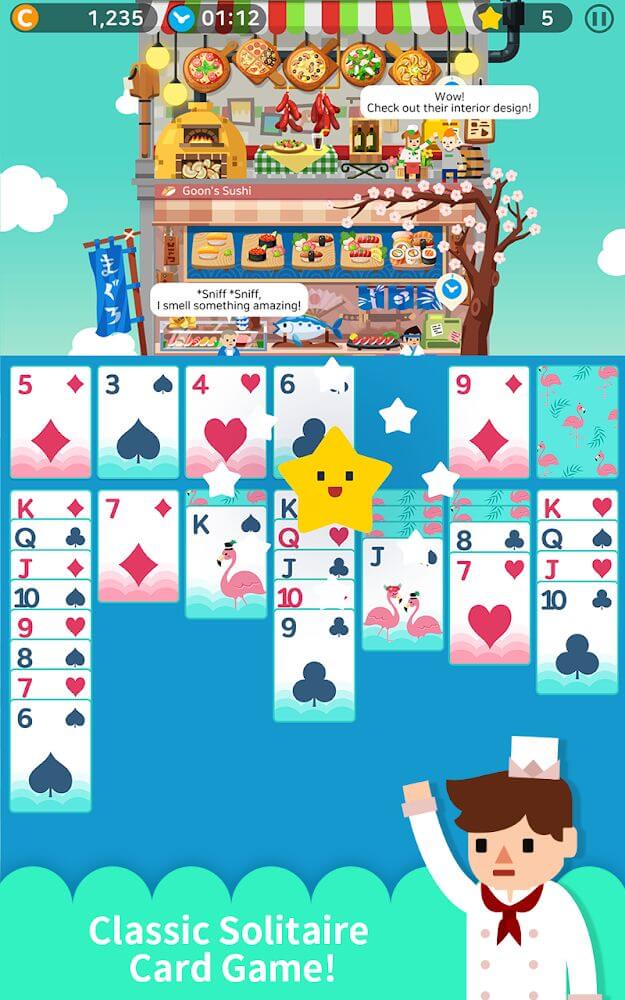 The construction of the restaurant and its floors is utterly dependent on the results of your play, and the game also has events that take place regularly, offering unique and high-value rewards. So that players can unleash their collection with their abilities and playing style. Arrange the cards and build your restaurant as logically and efficiently as possible.
BUILD YOUR RESTAURANT
The restaurant in the game is built entirely based on the arrangement of the cards and the outcome of the game. However, the arrangement and style of the restaurant depend entirely on the player. The floors of the restaurant are built adjacent to each other and take place in a continuum based on your arrangement.
When the floors come together and complete, a restaurant is completed. In your restaurant, you will be able to customize dishes such as hotdogs, hamburgers, Chinese food,… It all depends on you. So, try to arrange the cards and complete the restaurant according to your own style, choosing for yourself a new design, unique dishes, special styles, and your own playstyles.
ATTRACTIVE REWARDS
All games have rewards for completing levels, and Solitaire: Cooking Tower is no exception; after each level is completed, you will receive corresponding rewards based on the level results. If you are lucky, then you can get special rewards. The rewards include skins to help beautify the table or change the restaurant landscape to suit the player's style as best as possible. In addition to the rewards that are set according to the game screen, there are also cumulative rewards for you to have the opportunity to receive more valuable gifts.
CLASSIC SOLITAIRE GAME
The genre of Solitaire card playing is certainly not strange to players, especially those who play classic games. Classic games will often own a lot of Solitaire card genres because of their entertainment and high judgment in how to play and how to arrange it to bring the best results properly.
Solitaire: Cooking Tower gives you the traditional Solitaire experience with the same gameplay and elevates it by combining it with your own style of the restaurant building. Win with your own ability cards, reasonably arrange the cards, and with the traditional card game, you also build a restaurant!
KEY FEATURES
Light game with very low memory usage.
Integration for both Android and iOS operating systems for convenience.
Regular events with valuable rewards.
The game respects opinions and responds positively to complaints and contributions from players.
Game configuration is suitable for most devices. No difficulty in handling graphics.
Solitaire: Cooking Tower v1.4.8 MOD APK (Unlimited Stars, Unlocked) Download