Storyngton Hall is a game designed for lovers of romance games with a delightful story of lords and ladies with an addictive puzzle element. The game revolves around the story of the Green family with many other mysteries for you to discover. You will perform the task of rebuilding the mansion and performing tasks such as arranging furniture and designing rooms and gardens. You will be free to create your own way with many exciting puzzle levels and collect many items to decorate the mansion.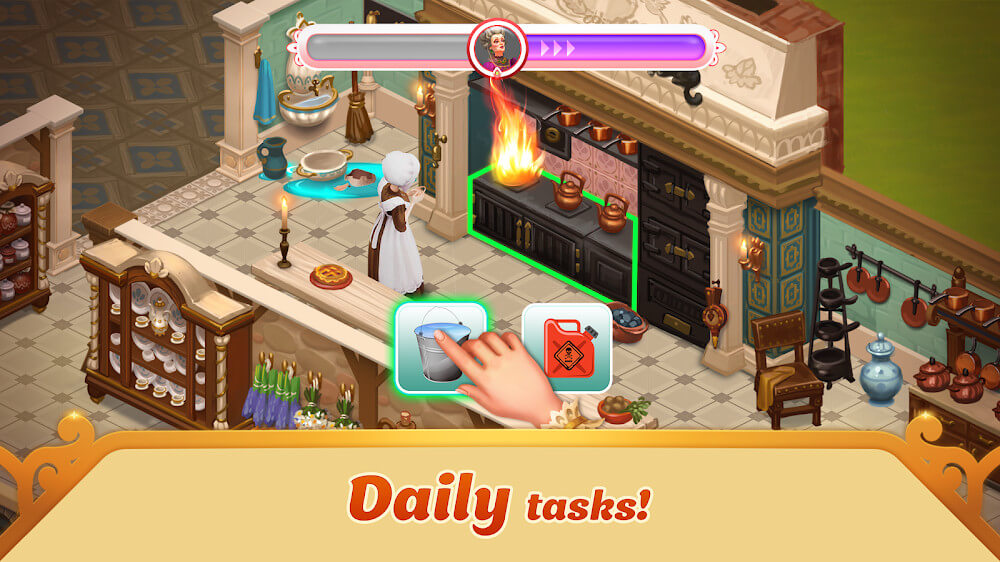 THE STORY OF HELPING THE GREEN FAMILY RESTORE THE LARGE MANSION
The plot of Storyngton Hall revolves around the Green noble family with three members, and each of them has a dream of their own. While Mr. Green wants to rest and relax with a good night's sleep, Mrs. Green wants a more bustling life; she wants to make friends with people around and wants her daughter to find someone to love sincerely. Her daughter has a hobby of writing love novels and also wishes to find true love.
Your task in this game is to design rooms to suit the preferences of each family member. In addition, you also have to design and build the flower crown in front of the door to create a beautiful and luxurious scene for the villa. However, you also need to beware of the evil Lady Wroth that will sabotage your activities.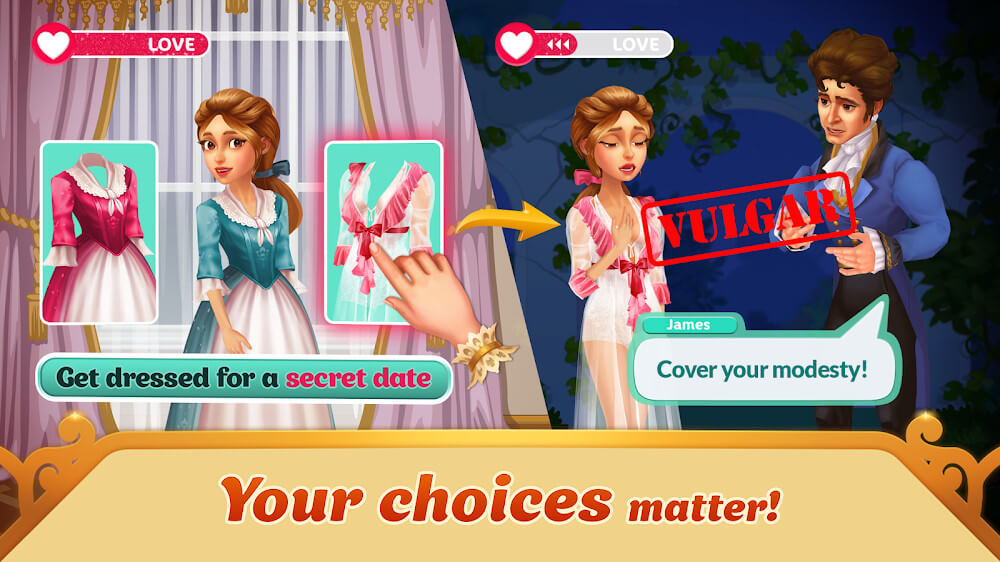 THE HISTORY OF THE VILLA AND THE ARRANGEMENT OF FURNITURE IN THE ROOM
The mansion in Storyngton Hall was built a long time ago and explicitly designed for the kings of the old. So its area is very large and includes many different rooms with unique antique designs. However, this villa was built during the Regency period, so it has been severely degraded, and it is up to you to repair it.
You will have to do a lot of work to restore it to its former state or design it with a better style. At the same time, you must arrange the items in each room reasonably and in accordance with the needs and desires of each member to receive many attractive rewards. You will plant more flowers in the garden to create the poetic and noble beauty of the villa.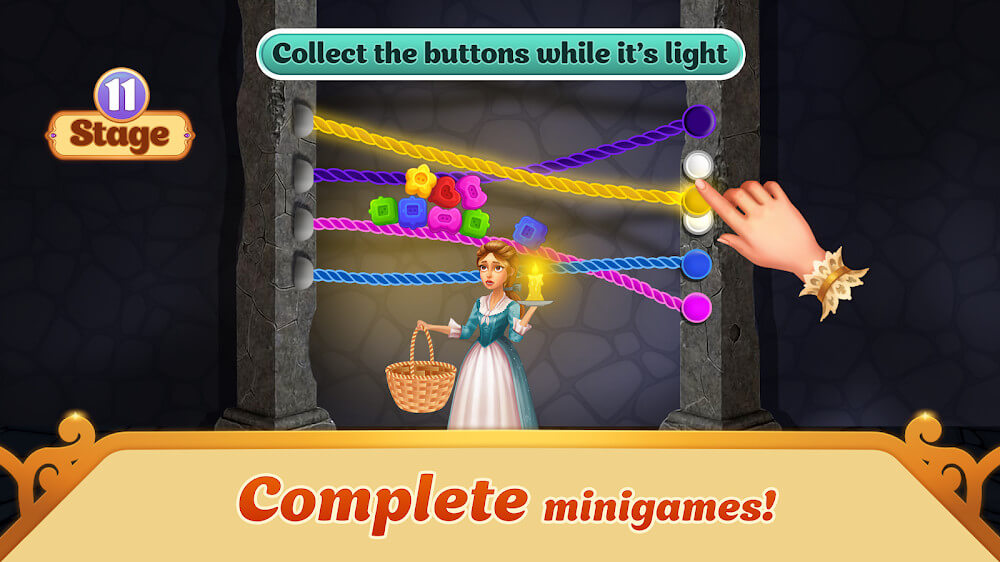 COMPLETE MISSIONS BY SOLVING MATCH 3 PUZZLES
The gameplay of Storyngton Hall is extremely attractive and fun. To do any work, you need to complete match-3 puzzle levels to collect the items you need and complete the challenging quests. There are many different items such as hearts, golden keys, stars, … with different designs and colors for you to collect.
This match-3 game requires thinking, observation, and logic to arrange three items of the same design and color into a horizontal or vertical row. In addition, you can use other helpful tools to get help with suggestions and get the job done faster. The difficulty in each level will depend on the work you want to do.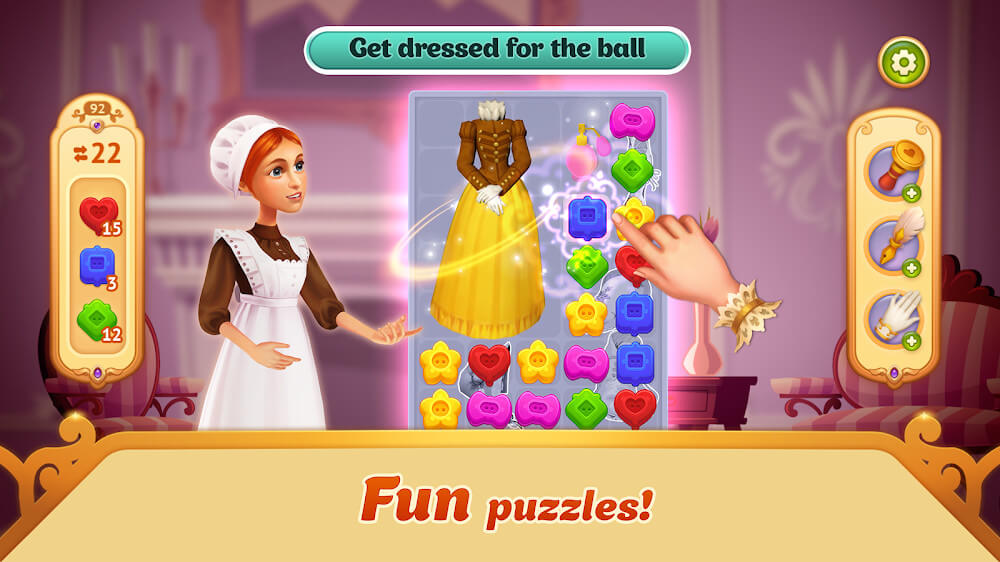 EXPANSION OF VILLA AREA
In addition to arranging furniture and building a garden for the villa, you can also expand the area by building new rooms and freely designing them in your own style. You can decorate any furniture and arrange them neatly. Depending on your creativity, you can create an impressive room with beautiful surroundings.
You can choose from 2 modern and classic designs to remodel the villa. If you love the rustic, simple, choose old items for decoration. Choose gorgeous and modern items if you want to redesign them in a noble and luxurious style.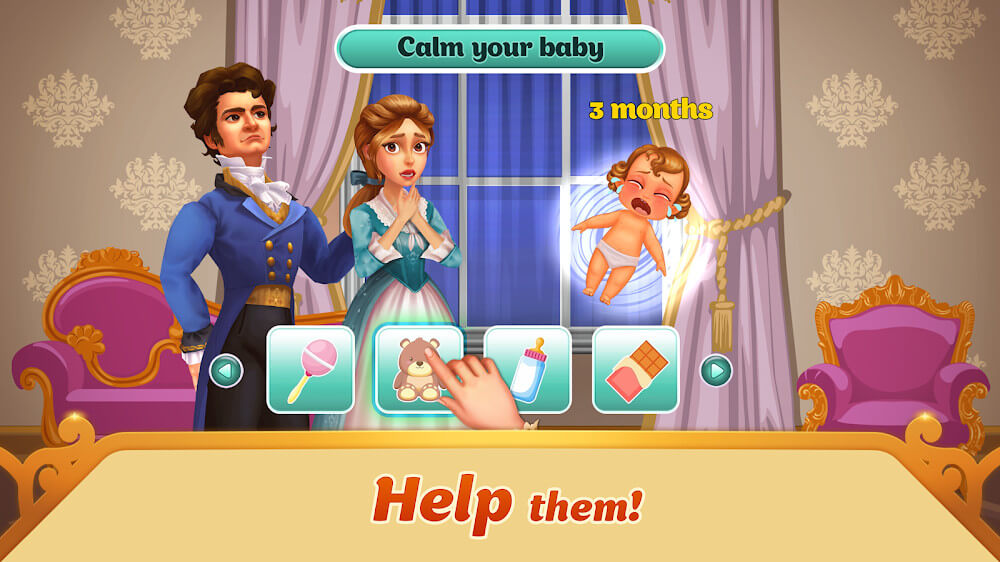 KEY FEATURES
Exciting match-3 puzzles have different challenging levels for you to collect the necessary items for the construction and remodeling of the mansion, giving you new discoveries with this hybrid gameplay.
Develop your interior design skills with creativity and a variety of interiors to choose from, build lush gardens around your dream home.
Play with friends: invite your friends from Facebook to join in this game and solve consecutive puzzle levels to increase competition, creating moments of great entertainment.
Captivating story: unravel the mysteries of Storyngton Hall and other characters, design rooms according to each Green family member's requirements, and create an epic mansion.
Graphics and sounds: sharp and realistic 3D graphics with unique character designs and different looks and costumes. Light and sound with a moderate pace of play for you to enjoy and complete the assigned tasks.
Storyngton Hall v82.3.0 MOD APK (Unlimited Stars) Download