Survival & Craft is a sea survival game with many exciting and stressful elements to take the gameplay to the next level for survival enthusiasm. The quality of 3D graphics is also perfect and realistic, making survival more stimulating, and you will have countless activities to entertain with friends while floating on the sea.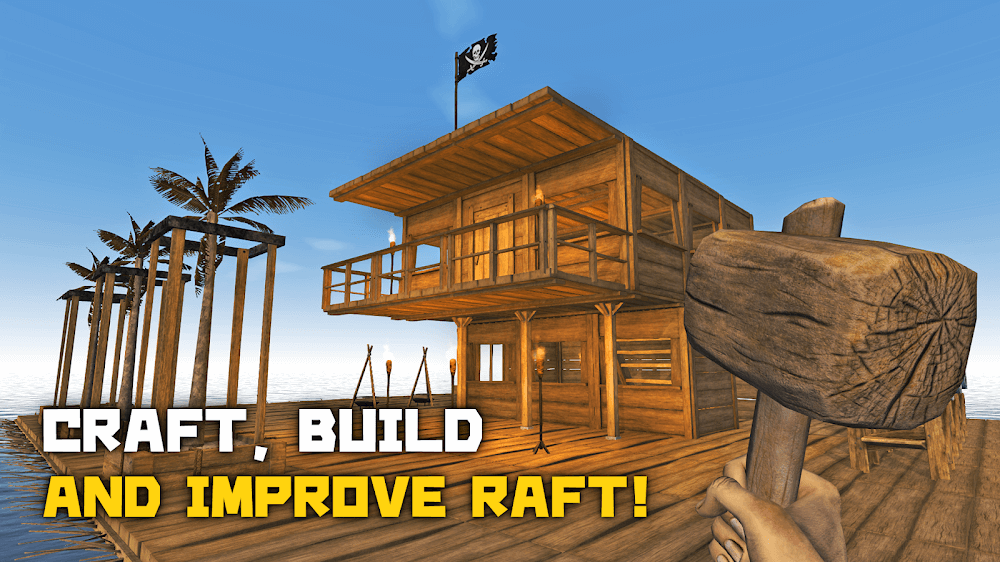 The game's main content is to bring a survival experience at sea where you have to use all available resources effectively to live through the new day. However, life at sea is dangerous as creatures will constantly attack you, so it is necessary to prioritize improving the quality of life and comfort. You will also witness a meticulous and detailed construction system to unleash your creativity in building a large and effective raft. The game also often creates conditions for you and your teammates to explore the surrounding sea and take advantage of resources to the last drop to stimulate the feeling of survival instead of sandbox elements. If you are looking for a survival game with huge content to entertain, the game will be a fresh start with the feeling of endless floating on the sea and meeting new marine friends.
MAGNIFICENT GRAPHICS AND VISUAL EFFECTS
The game's graphics quality is top-notch, as every 3D element is meticulously designed and detailed to give you the most immersive feeling. Elements such as structure, physical effects, and interaction with the environment are refined to make the survival experience perfect instead of crude and lifeless. The best thing is the efficient optimization of the graphics, which allows the marine environment to be rendered with few effects and gives you many options to enjoy the game with different levels of rich graphics.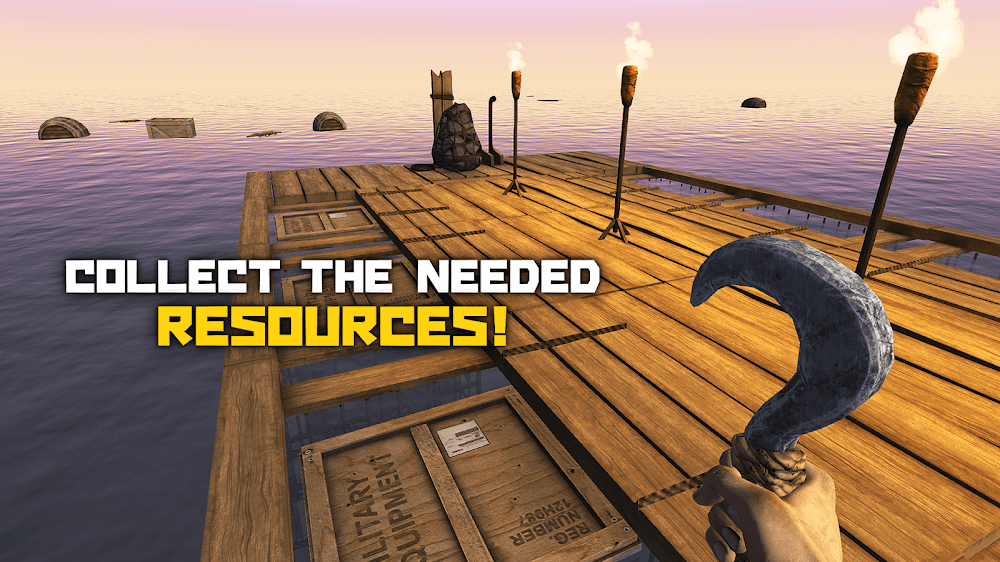 SURVIVE ON THE OCEAN AND ITS HARDSHIP
The survival element at sea is creative and fun as players search for resources floating around and serve purposes such as construction or crafting. You'll have to use a hook to drag items floating around, and random spawns are frequent, so you'll always have enough resources to survive. Over time, you can upgrade the raft or craft more modern amenities, building a prosperous life at sea and discovering the many new lands you travel through.
IN-DEPTH CRAFTING SYSTEM WITH WIDE INTERACTIONS
The crafting system is deep and detailed to keep you alive for a long time at sea, including creating ovens, chests, and more tools to craft new items. Moreover, the system will gradually expand based on your progress, and many key items will play that role, making the crafting process more enjoyable. All items are divided into different tiers, with constantly improving uses, showing depth in the crafting system and having everything you need to build a raft.
BUILD AND EXPAND YOUR TRUSTY RAFT
Building the raft is an exciting experience where you must protect it from sharks and upgrade its quality for long-term survival at sea. The game's building system is refined, and there are styles or designs for each material for you to expand or create new shapes for the raft. In addition, you can build additional support systems, such as automatic material collection or fishnet, to save the time needed to do tedious jobs while focusing on other things.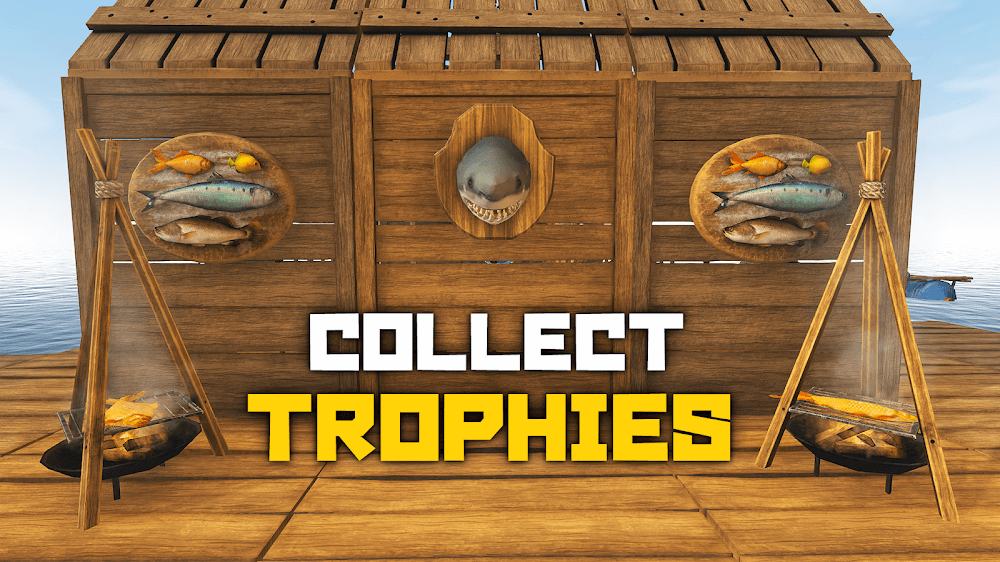 COOK AND FIND RESOURCES FOR FOOD
The food problem is most important when the game makes everything difficult, and even you have to save time for other things through fishing. After having materials, processing them on crafting tools is necessary, preserving them for long-term use when floating at sea. In addition to fishing, you can grow many foods such as vegetables or other plants on the raft and take advantage of all possibilities to have a high-quality life on the sea surrounded by danger.
EXPLORE THE LANDS FOR EXTRA RESOURCES
Many lands will randomly spawn around you, and exploring them is optional as resources are random but worthwhile. So you can craft a small raft and go to the mainland, then bring everything back to add to the main raft, like building materials, crafting, food, and more. Many lands will appear the dangers of wild animals, but that gives the gameplay more depth and emphasizes the element of adventure combined with survival to bring a new gameplay experience.
PLAY WITH FRIENDS FOR ENTERTAINING SURVIVAL EXPERIENCES
Survival with friends always brings a new experience compared to alone, when fun or activities are vibrant and bustling. People can also divide the work among themselves to make the raft larger and more developed quickly or design things according to personal preferences. Moreover, the adventure to the islands also becomes more interesting as everyone will have many relaxing moments while admiring the beauty of the sea or fighting off the sharks.

IMMERSIVE CHANGES AND NEW FACTORS
Besides the default gameplay, new changes or updates promise new factors to entertain everyone throughout their gameplay while alone or with friends. That includes new buildings, structures, items, and interaction with the environment for immersive experiences. Besides, adding abandoned rafts and areas adds more realism to survival and expands the gameplay with new activities for you and your friends to have immense fun.
Survival & Craft: Multiplayer v347 MOD APK (Mega Menu, Unlimited Money) Download