Ultimate Motorcycle Simulator is a game where players will decide on their motorcycle riding experience inside a complete and realistic city. You will spend time exploring it and the game modes that come with it. At the same time, there will always be rewards that you can easily find, and it will take time to collect them to unlock different types of motorcycles. So each gameplay brings an impressive experience for you.

MOTO RIDING IN A HUGE CITY
When you experience the city in Ultimate Motorcycle Simulator for the first time, you will be able to find a large space where you can freely ride your motorcycle anywhere. You will be able to freely explore what is possible inside this city as there will be various environmental elements that you will quickly see, such as moving vehicles. At the same time, you will find columns of light with different colors and stand out from the environment.
Players will take time to make their exploration, and each game mode is different. Like other simulation games, players will be able to control their car in detail and choose the appropriate control method. Specifically, you can select a control method similar to cars because there are brake and accelerator pedals. In addition, you can also find motorcycle-specific throttles that come with corresponding brakes.

CHOOSE THE GAME MODES YOU FEEL LIKE
As noted above, you will find many light pillars with corresponding symbols and colors in the city of Ultimate Motorcycle Simulator. So, your experience in the game will usually be divided into two that are free to explore or choose a specific mode to experience. The city will give you a certain number of diamonds, one of the game's essential resources. At the same time, pillars of light will bring money to be used in the game.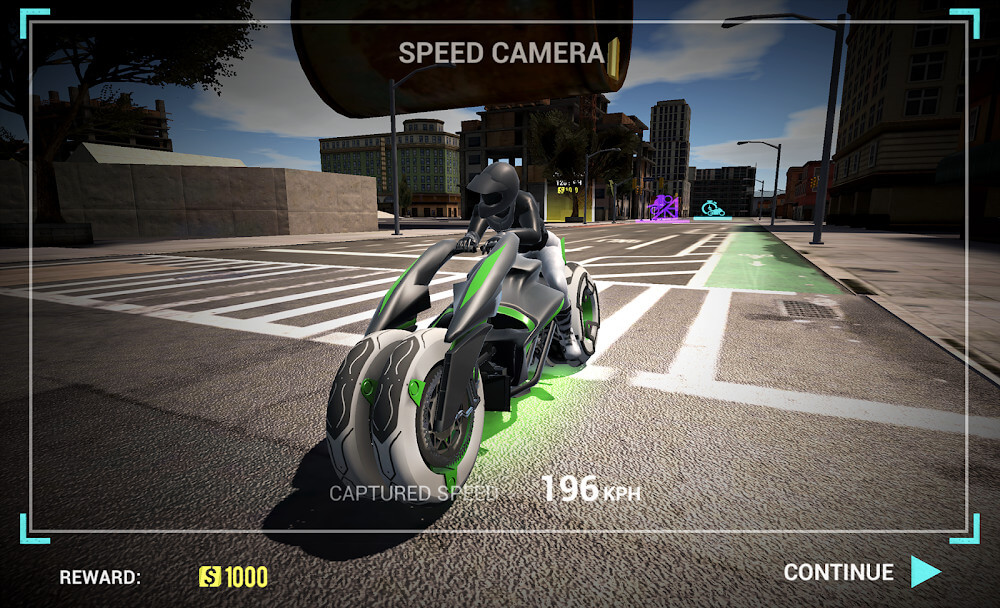 The way to access these gameplays is straightforward because you need to drive your car to the corresponding light column, and you will know which gameplay it leads to. You can freely choose three gameplay, including time trial, parkour, and drift. At the same time, there will also be another light column, the speed camera, but it only has the function of measuring your speed. The three modes above all have one thing in common: the checkpoint columns that you need to pass.
Drift is a mode where you will need to move to the checkpoint by drifting, and if you do it incorrectly or go the wrong way, your achievement will not be accepted. At the same time, the time trial will be a race against time for you to reach the checkpoints scattered throughout the city. In addition, parkour requires you to control your motorcycle and overcome different obstacles. So you take advantage of many different ways to earn the money you want.

UNLOCK VARIOUS MOTORCYCLES AND UPGRADE NEW PARTS
In Ultimate Motorcycle Simulator, players will find many different types of motorcycles. Specifically, you will find basic motorcycles to racing motorcycles. Motorcycles with large tires also appear in this game and give you an awe-inspiring driving time. In addition, you can also upgrade their different parts like engine, turbo, tires, and other elements and change their appearance if you desire.
Ultimate Motorcycle Simulator v3.6.22 APK + MOD (Unlimited Money) Download