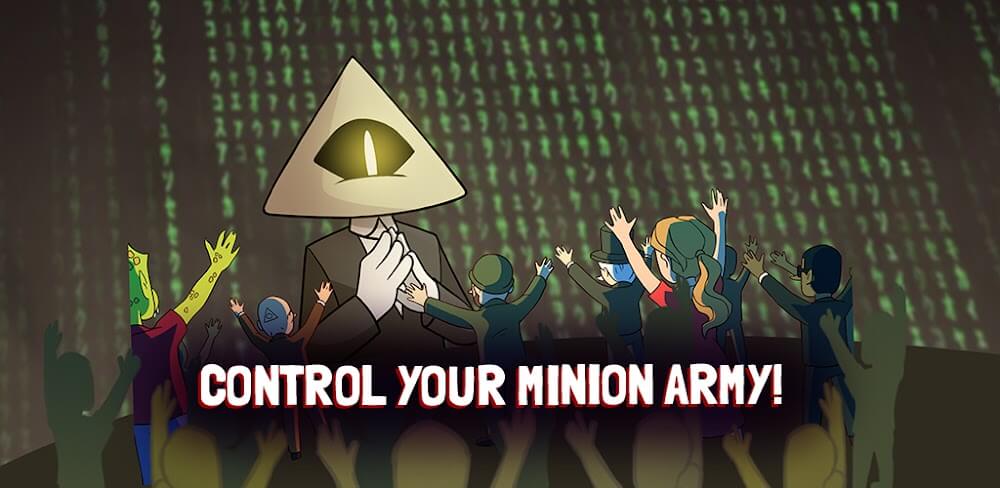 We Are Illuminati: Conspiracy directs players to a single goal of world domination and the work they need to do to accomplish this goal. Players will begin by capturing companies and recruiting many human resources to their side. At the same time, they also use these resources to promote the operation of work and continue to open other jobs that contribute to world domination.
BECOME THE RULER OF THE WORLD
In We Are Illuminati: Conspiracy, players will have an understandable goal of world domination, which is certainly not an easy goal. So players will gradually find ways to accomplish this goal, and the game has already determined the right ways for you. Your job is to operate and develop it to a certain level and continue to unlock the following ways. In addition, idle gameplay is accessible to players.
The first method you will use is to capture companies with your influence. Specifically, you will have your own company, and it will continuously occupy the buildings of other companies and add human resources to your world domination. You will see a building jump over others and turn them into occupied targets. In addition, you also have an increase in your occupation performance.
SE RESOURCES SENSIBLY
Players will find several resources inside We Are Illuminati: Conspiracy, such as human resources and diamonds. As for human resources, you will use it to upgrade the performance of a job that serves world domination, and through the upgrade, you will see many human resources on your side. Then you have enough base to develop your current job and open up new jobs to accelerate the process of world domination.
Things do not stop there when the game gives you some other upgrade elements, and for sure, these upgrade elements will have completely different and diverse effects. Specifically, you can permanently double the number of resources on your side, and the resources you pay for are not cheap at all. In addition, you can also use diamonds to increase the efficiency of each job exponentially, increase execution time, and other interesting effects.
Players will accomplish the goal of world domination by many exciting jobs:
Players will experience idle gameplay and start the game by occupying other companies to gather human resources on their side.
You will see a building constantly moving to make a building in its path an occupation target, and you will boost its performance.
You will use the resources you have to promote the work of this building, and from there, you will see many new people appear to control.
To dominate the world, surely players will not use only one way, so players will try to unlock other jobs and continue developing them.
The game offers many upgrades with remarkable multiplier effects, and you will carefully choose as they consume many resources.
We Are Illuminati: Conspiracy v4.1.1 MOD APK (Free Purchase) Download