Weapon stripping introduces everyone to realistic and refined simulation gameplay in every detail for players to understand or study firearms. The thrilling thing about the game is that it has all the designs and information of the famous or popular modern guns in the world armies. Through its realistic 3D simulation, players will always find little joy in continuously working with guns.

AUTHENTIC 3D GRAPHICS WITH DYNAMIC CAMERA
The first impression in Weapon stripping that it brings to people is the absolute realism in its graphics and interactions. That makes the player's experience fully realized when each change or movement of the weapon is delicate and full of life. Not only that, but the game's camera mechanism is flexible so that anyone can freely inspect weapons from multiple angles and monitor their designs or structures in stages.
START A PROFESSIONAL GUN INSPECTORS CAREER
The player's main job in the game is to become an expert assessor of modern weapons through all complex processes. That includes starting with handguns to heavy weapons and gradually expanding the inspecting abilities with various new weapons. As players continuously complete missions from the system, they can unlock more new weapons and indulge in inspecting them all.

DISMANTLING THE GUN'S PARTS AND THEN PLACING THEM BACK
The process of inspecting every weapon in Weapon stripping begins with dismantling them completely to understand the structure from the small parts. Interestingly, players can challenge themselves to the speed of disassembly through many modes and gradually become an expert at disassembling or assembling different types of weapons. When players completely remove any weapon, they will gain more experience points to upgrade or unlock new weapons.
INSPECT THE FIRING MECHANISMS WITH AN X-RAY
Researching or tracking all weapons simultaneously involves testing the firing mechanics of individual weapons in the library. Players can fire any weapon and watch each part's movements or synchronicity to understand each weapon better. Not only that, the game has an x-ray mode so that players know all the facts of each weapon in the deepest part, whether general or specific.

TEST YOUR LIMITATIONS UPON WEAPON DISMANTLEMENT
If players are confident in their abilities in Weapon stripping, they can participate in real-time game modes and win generous rewards. Before that, they can select the most proficient weapons, then start the timer, and the process will begin. An operation requires players to interact with all parts or details in the shortest time to receive many handsome rewards to expand their abilities.
CUSTOMIZE WEAPONS WITH EXPENSIVE ATTACHMENTS
The game can be seen as a haven for hot weapons experts as they can purchase many additional accessories to decorate their favorite weapons. The add-on mounting system is deep and refined and can change the distinctive appearance of many weapons through a variety of customizations. Changing accessories will also affect the challenges of disassembling weapons to stimulate players.
Weapon stripping uses a realistic 3D graphics engine and many intriguing features to create the most vibrant environment or atmosphere for people to immerse in the relaxation while directly interacting with their favorite weapons over many features.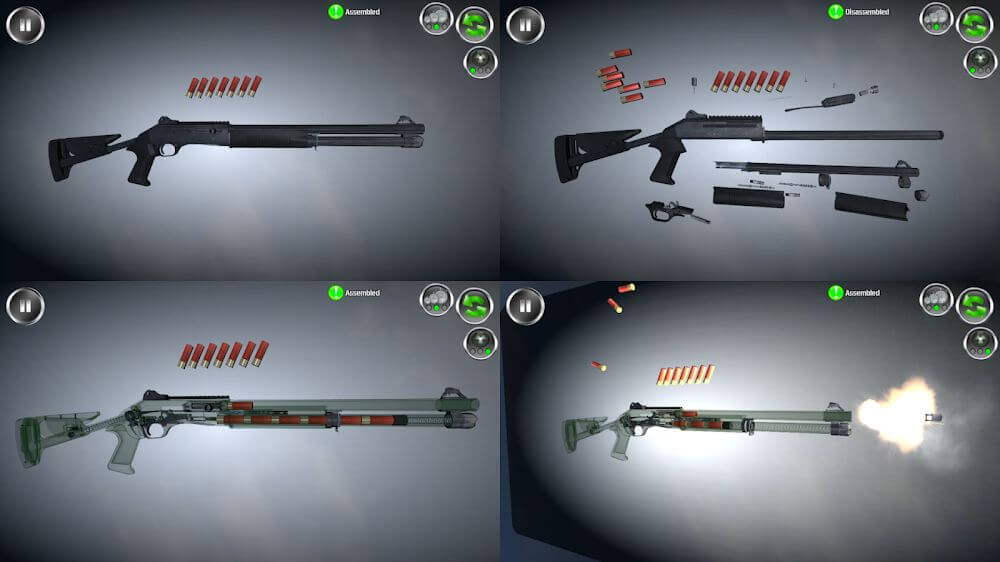 MAIN FEATURES
Intriguing weapon simulator gameplay with outstanding accuracy and details to immerse players in its endless pleasure of weapon stripping.
Realistic 3D graphics to enhance the visuals' qualities or players' interaction to have the best experiences with various firearms.
Various firearms categories for players to search and start inspecting their most interested or favorite weapons worldwide.
Built-in X-ray mode with high-quality detail and textures for players to learn more about firearms' shooting mechanisms and more.
An in-depth development system to increase players' ranks or access to new weapons or high-class firearms for further gameplay experiences.
Weapon stripping v107.459 MOD APK (Unlocked All Content) Download