Widgets iOS 15 – Color Widgets is an application that allows you to adjust and work with many widgets on your device. You can find many widgets with different features that you can take advantage of in many cases. At the same time, the size, theme, and many other aspects are decided by you, and you can withdraw the ads when using the premium version.

TWEAK THE WIDGET ABOVE IN THE DEVICE EASILY
In Widgets iOS 15 – Color Widgets, users can find a useful feature to customize useful widgets and add the ones they want. Widgets are always indispensable components when using some features on their home screen. At the same time, with these widget elements, you will see the change of the device screen when new things appear.
LOTS OF WIDGET CONTENT AND THEMES FOR YOU TO USE
The first feature that you should not miss in Widgets iOS 15 – Color Widgets is that you can easily adjust the widgets you have easily by different elements. Specifically, these widgets will have small, medium, large and changeable things like text, content, themes, and many other elements. So you can get many different widget variations to add to your home screen.

MANAGE YOUR TIME WITH EASE
Once you've explored the editing features that Widgets iOS 15 – Color Widgets has to offer, you'll continue to experience the exciting extras. Specifically, you can easily manage your time accurately and the tasks you need to do in the coming periods. An additional widget that any user cannot ignore is adding a Day counter that is entirely suitable for different couples.
FIND MOTIVATION FOR TIRED DAYS
Users can find motivation in Widgets iOS 15 – Color Widgets through its widget features. Specifically, the application supports Daily Motional Quotes, a collection of encouragement that you will read every time you open the device screen. The application also allows you to display commemorative photos of different themes on the main screen. Indeed this is a source of motivation that anyone can take advantage of.

MONITOR YOUR DEVICE'S ENERGY AND YOURS
One point that any user cannot ignore is to monitor the device's energy quickly. You can easily find it to adjust your usage intensity with just one glance. In addition, you can also track the number of steps and calories you have burned through a widget already available inside the application. So you can set up a workout regimen depending on your fitness.
NO ADS WHEN UPGRADING TO THE PREMIUM VERSION
One exciting thing that you can find when using premium apps is that you can easily get rid of annoying ads. All it takes is an intuitive interface for you to unleash the full potential of the widgets in this app.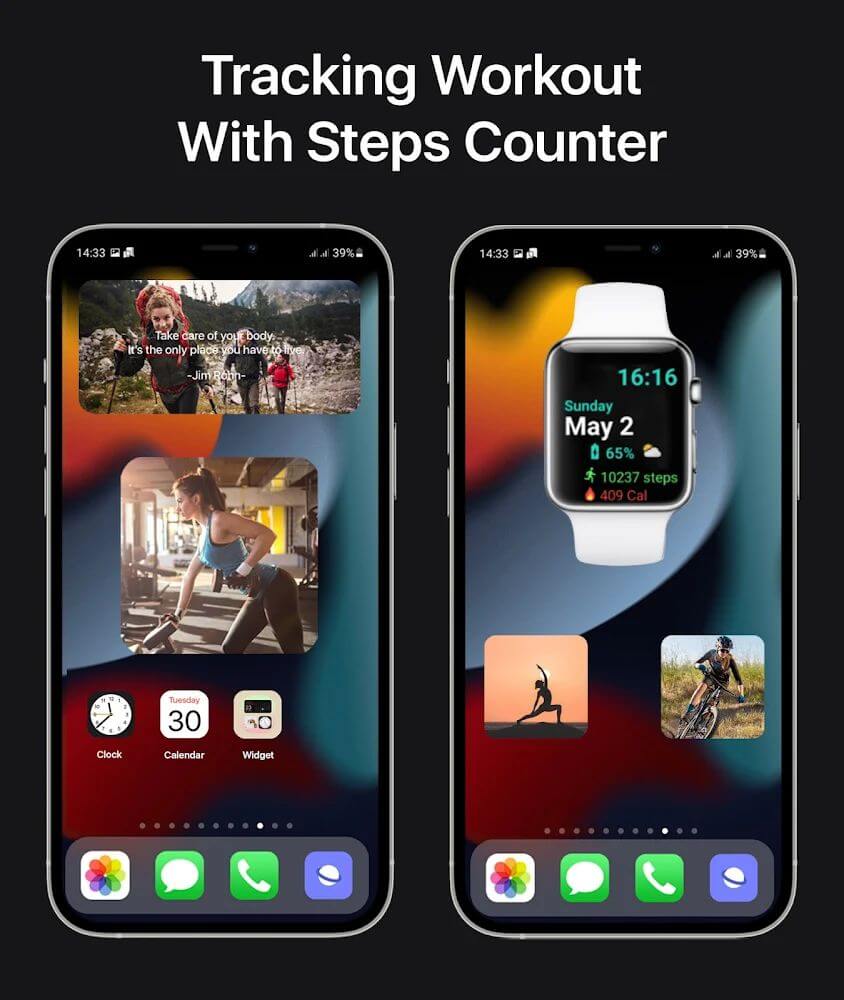 Exciting experiences with customizable widgets appear before your eyes:
A list of widgets with different features appear before your eyes and are customized to change the home screen.
You can easily keep track of important periods and events and easily take advantage of the day counter with the widget.
Tasks and notes are indispensable, and you can adjust their characteristics for easier viewing.
Your or your device's energy can be easily counted to design a workout mode for you and charge your device.
In the premium version, users can remove annoying ads to focus on the app's features.
Widgets iOS 15 – Color Widgets v1.11.5 APK + MOD (Premium Unlocked) Download