Zombie Defense gives you challenging levels in the tower-defense genre and combines RTS elements. You will place the warriors you have in available positions on the field and change their position as your wish. At the same time, the number of levels is entirely diverse and divided into different modes that you cannot ignore. So to deal with powerful enemies, the upgrade system will help you.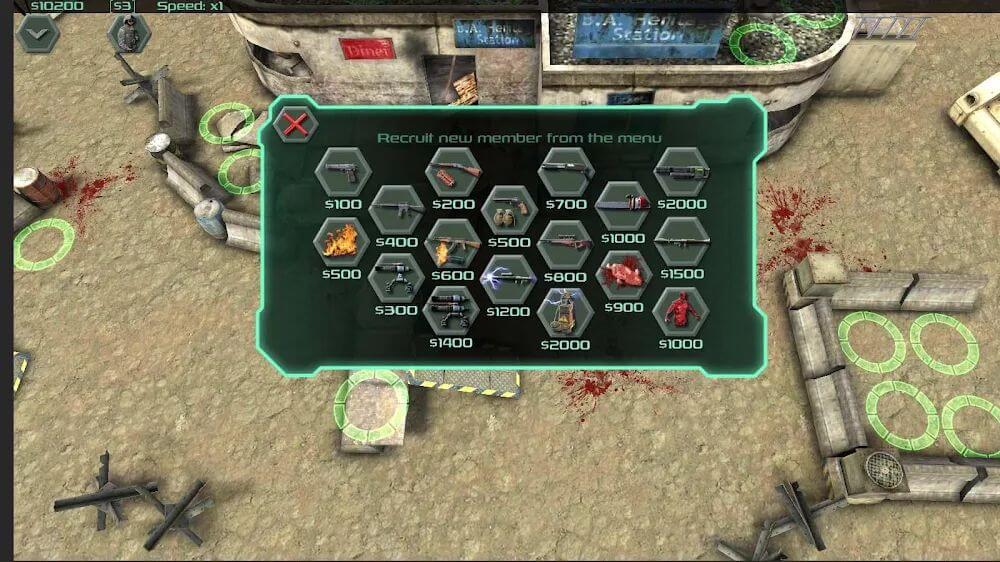 FIGHT THE APPROACHING WAVES OF ZOMBIES
In Zombie Defense, players will challenge battles against zombies with their increasing stamina. You will own yourself a completely elite force that can defeat approaching enemies and possess powerful equipment. At the same time, you will find many different environments as you go to the levels, and you will be the one to ensure that the battle is always stable and the environment design is entirely different.
The green slots where your warriors can stand and attack enemies are in common between the environments you'll be trying to survive in. At the same time, a point that you will find interesting and make you unable to take your eyes off when the RTS element is added in tower defense. It is reflected by moving the warrior's position between the available green slots on the screen. Therefore, you will find many interesting strategies in this game.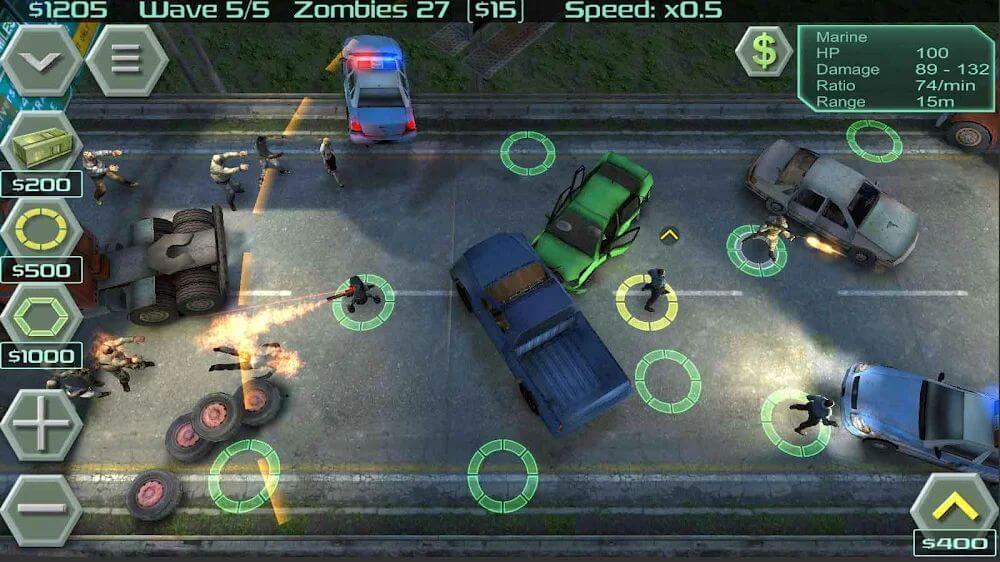 TAKE PART IN CHALLENGING BATTLES
A level in Zombie Defense is wholly divided into many different waves, and you will not know where the zombies may appear. So you will place a warrior in a temporary position and wait until the monster appears. At the same time, each warrior has a suitable attack range so you can choose the proper position for them. When you complete a wave, you will receive additional bonuses that can be used for many different purposes.
The number of warriors you own at the beginning of the game is minimal, so it is entirely normal for you to encounter some difficulties. At the same time, besides the weapons that the warriors own, they can also use some other special equipment. For example, if you feel there are too many zombies that one person can't kill, a grenade will be the optimal solution, and there is no need to change another person's position to come and support the teammate.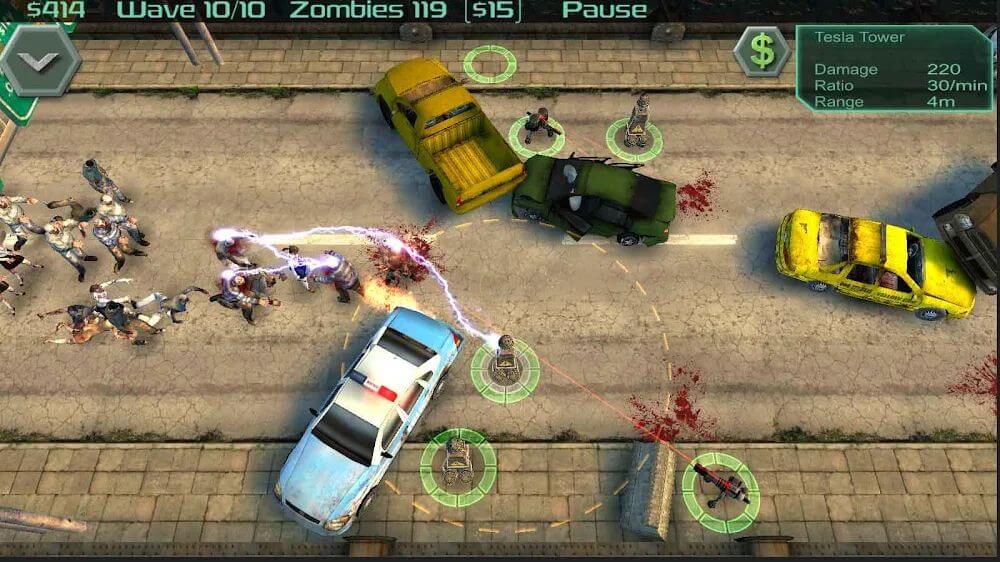 You can find different modes, which will have different levels that you have to overcome. Specifically, you can find an additional nightmare mode with zombies with higher resistance than regular and unlock a new upgrade mechanism. The 3-man mode is similar to the nightmare, but the team number is significantly reduced. In addition, you can also protect a cameraman's TV throughout the level, and you will receive additional rewards if you do well. Many other modes can test your strength.
UNLOCK NEW POWERS TO OVERCOME CHALLENGES
Once you've experienced a tower defense game like Zombie Defense, you certainly won't be able to ignore its upgrade mechanism. The complex upgrade system is divided into small skill trees corresponding to each type of warrior and turret. In addition, it also has a support mechanism like regeneration.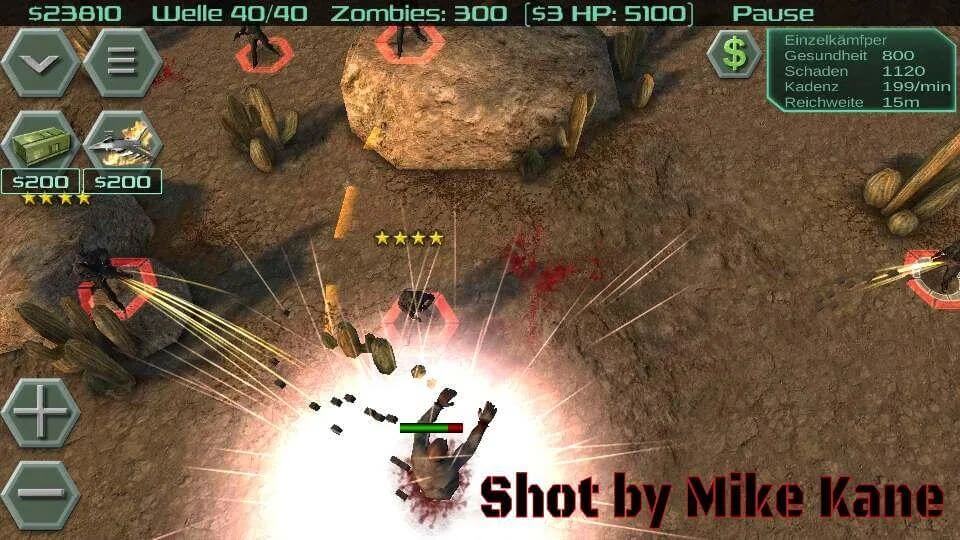 Tactical challenges in the war with zombies will attract players because:
A gameplay that combines tower defense and RTS where you will decide for yourself the flexibility in tactics when stopping zombies.
You will be able to place warriors and turrets in any position and change depending on different difficult situations.
Each warrior owns their weapons and valuable equipment to help you overcome many challenging levels.
Depending on the mode you choose, the level of challenge will increase and come with benefits for you to have a chance to overcome them.
The complex upgrade system is divided into small skill trees that you will spend time learning and making choices.
Zombie Defense v12.8.8 MOD APK (Unlimited Money) Download