Zombie War Idle Defense Game is an exciting game with wars between scary zombies. In the year 2113, threats have caused people to bear the consequences of this terrible disaster. The player's task in this game is to protect human life and bring safety to the civilization here. Moreover, to defeat and destroy them in the best way, you should build yourself a powerful army to support each other in every battle.
HUNDREDS OF CHALLENGING MISSIONS WAIT FOR YOU EVERY DAY
Coming to Zombie War Idle Defense Game, this game will give you a daily request, forcing you to fulfill and complete it promptly. Indeed each person will have their creativity and playstyle to defeat and fight against zombies specializing in bloodsucking. Moreover, if you do well at the assigned work, you will receive a lot of coins, diamonds, and attractive rewards from the game. They will be equipment that will help you a lot in battles.
A HUGE TREASURE OF WEAPONS FOR YOU TO CHOOSE
At Zombie War Idle Defense Game, players will enjoy using a considerable treasure trove of weapons. Here, you can search and choose your favorite unique and modern weapons to serve your battle. Hundreds of ammunition are fully provided and help you in your shots. Not only that, but you also have the right to create for yourself a strong team, working together to face and destroy all the fierce zombies. Whether you can become a good commander or not depends on your creativity in the process of controlling and distributing combat forces.
HUNDREDS OF MAPS FOR YOU TO DISCOVER
Zombie War Idle Defense Game always provides players with hundreds of different maps to give players a better idea of ​​the areas where the match occurs. Thanks to the map, you will easily manage and direct your army to set up bases and attack anywhere quickly and avoid unintended confusion. Besides, you will have the opportunity to unlock and discover the most unique and exciting types of zombies to entertain and relax together.
You need to go through many tense, attractive, and thrilling battles with hordes of zombies who destroy everything in the city to open it. Depending on the intelligence and sensitivity of each player, they will have rich and diverse ways to defeat as long as they can handle all those evil zombies.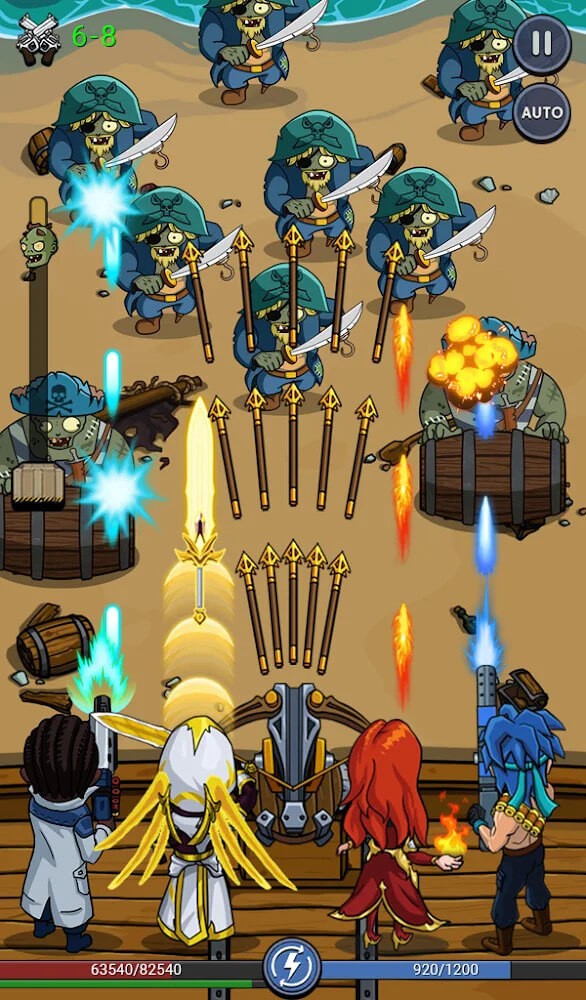 ALWAYS KNOW HOW TO DEFENSE IN ANY CASE
When participating in Zombie War Idle Defense Game, players should know how to defend and be wary of the enemy in all different cases. These zombies are always looking for ways to attack and destroy the human habitat. As long as you forget to defend and are not alert, they will suck your blood at any time. They are fearsome people who have sucked blood and killed countless people of this land. To bring life and peace to this place, you have determined and bravely stood up, defeated, and form gangs to destroy them thoroughly.
KEY FEATURES
Battle of Idle Defense: Choose your machine gun and sidekick heroes to protect yourself against vicious undead.
Every day brings a new and challenging goal. Complete the assignment, earn cash and diamonds to upgrade equipment and the defense hero squad.
There are several heavy weapons, add-on grenades, and heroes with a variety of special abilities.
There are many maps and zombie variations to be unlocked.
Every day, a lucky spin, a daily mission, and free gems are waiting for you.
Zombie War Idle v204 MOD APK (Unlimited Money/Resources) Download